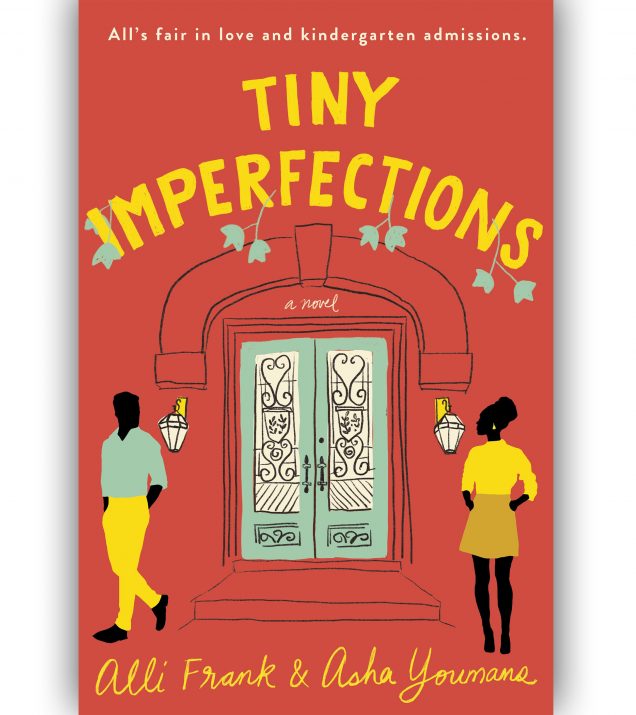 Debut authors and real life friends, Alli Frank and Asha Yourman's ☛TINY IMPERPECTIONS [pub: G.P. Putnam's Sons] is not just one of this summer's must-reads, it is also my favorite read of Quarantine 2020. I was transported  and transfixed by the locations and lives of my new besties: Josie—the beautiful, Bay-area-based, 39-year-old single mom of a teen ballerina with Julliard aspirations—and Aunt Viv—the nurturing, yet lively mother figure that counsels and cares for two generations of privately-schooled Bordelon women while cooking at the very same elite institution for 50 years. Though Josie considers the stylish actress Tracee Ellis Ross her best friend in her head, IRL, her true partner-in-ending-her-sex-drought is the every-Tuesday-night-two-glasses-of-champagne-after-work married mom of three sons, Lola.
Listen. I was so enamored with these characters that after deliberately slowing down my reading pace, I still finished this comedic romance in just three days. And I wasn't just vested in the main subjects. The supporting characters—from the potential and past love interests to the neurotic and entitled parents—had me laughing out loud, for real. Full disclosure: I released an audible gasp so loud at the end of Chapter 25, I scared myself. Need to get out of your own head? I highly recommend savoring this delicious debut novel… with a bottle of bubbly, of course. Cheers!

Minus any major spoilers, here are just a few of my favorite quotes and thoughts from Tiny Imperfections by Alli Frank and Asha Yourman:
Tiger moms are so 2011.
—Josie Bordelon
Seriously? Did your vagina die this summer?
—Lola/Josie's Bestie
Behind the witchy black wardrobe you wear is a bleeding heart. Mine's Teflon.
—Roan/Josie's Assistant
We could give two shits if the lettuce and tomato on our burger has been locally sourced and the cow was read Dostoyevsky out in the pasture before being led to slaughter. 
—Josie
Also, check out this audio except read by Bahni Turpin:
Book Description Per Penguin Random House

:
Peace, Love, & Beauty,