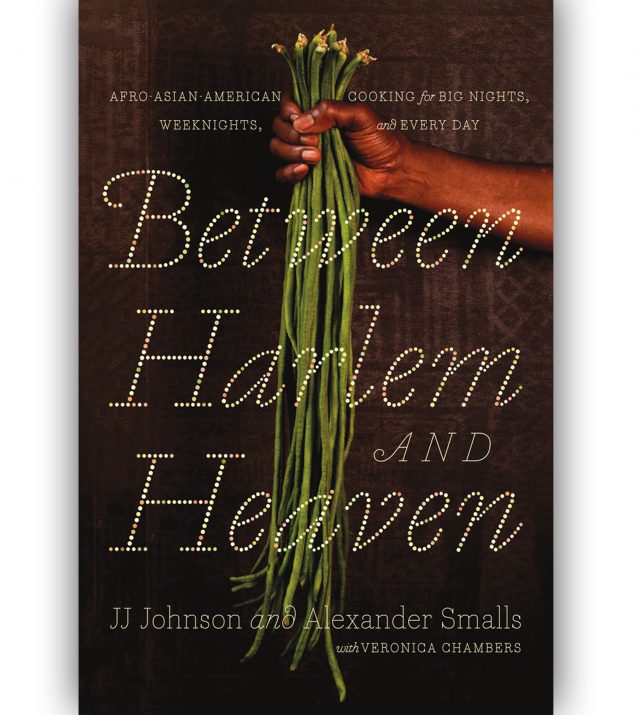 Happiest of Pub Days to Chef JJ Johnson,  Alexander Smalls and Veronica Chambers! Their cookbook ☛BETWEEN HARLEM AND HEAVEN: AFRO-ASIAN-AMERICAN COOKING FOR BIG NIGHTS, WEEKNIGHTS AND EVERYDAY [pub: Flatiron Books] releases today.
Per Macmillan Publishers:
In two of the most renowned and historic venues in Harlem, Alexander Smalls and JJ Johnson created a unique take on the Afro-Asian-American flavor profile. Their foundation was a collective three decades of traveling the African diaspora, meeting and eating with chefs of color, and researching the wide reach of a truly global cuisine; their inspiration was how African, Asian, and African-American influences criss-crossed cuisines all around the world. They present here for the first time over 100 recipes that go beyond just one place, taking you, as noted by The New Yorker, "somewhere between Harlem and heaven."
This book branches far beyond "soul food" to explore the melding of Asian, African, and American flavors. The Afro Asian flavor profile is a window into the intersection of the Asian diaspora and the African diaspora. An homage to this cultural culinary path and the grievances and triumphs along the way, Between Harlem and Heaven isn't fusion, but a glimpse into a cuisine that made its way into the thick of Harlem's cultural renaissance.
JJ Johnson and Alexander Smalls bring these flavors and rich cultural history into your home kitchen with recipes for…
– Grilled Watermelon Salad with Lime Mango Dressing and Cornbread Croutons,
– Feijoada with Black Beans and Spicy Lamb Sausage,
– Creamy Macaroni and Cheese Casserole with Rosemary and Caramelized Shallots,
– Festive punches and flavorful easy sides, sauces, and marinades to incorporate into your everyday cooking life.
Complete with essays on the history of Minton's Jazz Club, the melting pot that is Harlem, and the Afro-Asian flavor profile by bestselling coauthor Veronica Chambers, who just published the wildly successful Yes, Chef by Marcus Samuelsson, this cookbook brings the rich history of the Harlem food scene back to the home cook.
Peace, Love, & Beauty,