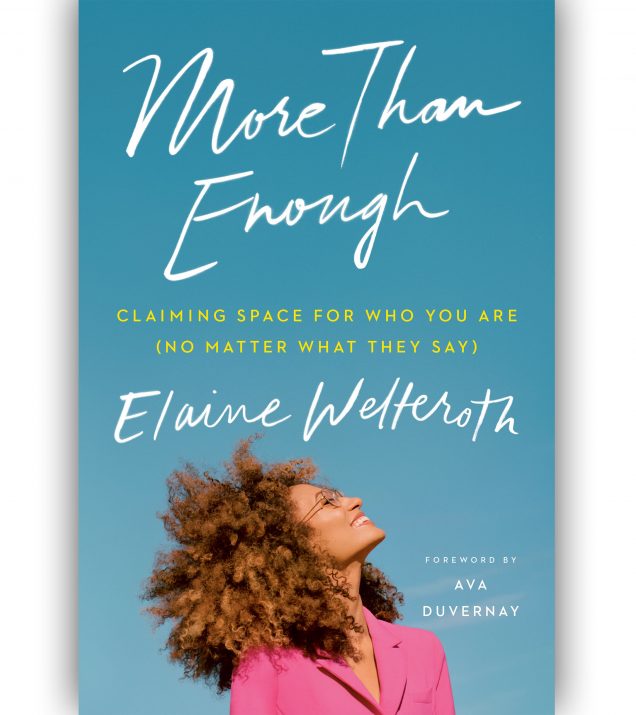 Shaking a tambourine in celebration of Elaine Welteroth's inspirational ☛MORE THAN ENOUGH: CLAIMING SPACE FOR WHO YOU ARE (NO MATTER WHAT THEY SAY) [pub: Viking] dropping today. Just watched the Project Runway judge on Good Morning America crediting her mother as "the shero of this story." The esteemed journalist shared so much wisdom in her interview with Robin Roberts this morning:
If I'm going to be held up as a trailblazer by you, I better be doing the work to make sure that I am leaving that trail with some signposts along the way that makes it easier, less confusing, less daunting for the next generation that is coming up behind me. Because, by the way, I don't want to be a first if I'm going to be the last. I want to be the first of many. I feel like I owe it to this generation that is coming up behind me, and they are fierce, by the way… Because they are going to face a lot of thing, burn out, complicated relationships, negotiating their salary. I mean All of this stuff is hard and we live in a 180-character world where we only share the shiniest slice of our success stories. And it's not really like that behind the scenes.
Also appreciated this priceless jewel that Teen Vogue's former editor-in-chief dropped on journalism students in the studio audience:
Find your voice and tell the story that only you can tell. We live in a clickbait culture where there is pressure to just chase the click. But what I will tell you is the most transformative work you will do is the work that only you can do. So find your zone of genius sooner than later. Zero in on that and don't be afraid to tell the story that no one else is telling. 
Looking forward to deep diving into Elaine's first book. Salute sis!
Per Penguin Random House:
In this part-manifesto, part-memoir, the revolutionary editor who infused social consciousness into the pages of Teen Vogue explores what it means to come into your own—on your own terms.Throughout her life, Elaine Welteroth has climbed the ranks of media and fashion, shattering ceilings along the way. In this riveting and timely memoir, the groundbreaking journalist unpacks lessons on race, identity, and success through her own journey, from navigating her way as the unstoppable child of an unlikely interracial marriage in small-town California to finding herself on the frontlines of a modern movement for the next generation of change makers. Welteroth moves beyond the headlines and highlight reels to share the profound lessons and struggles of being a barrier-breaker across so many intersections. As a young boss and often the only Black woman in the room, she's had enough of the world telling her—and all women—they're not enough. As she learns to rely on herself by looking both inward and upward, we're ultimately reminded that we're more than enough.
Peace, Love, & Beauty,