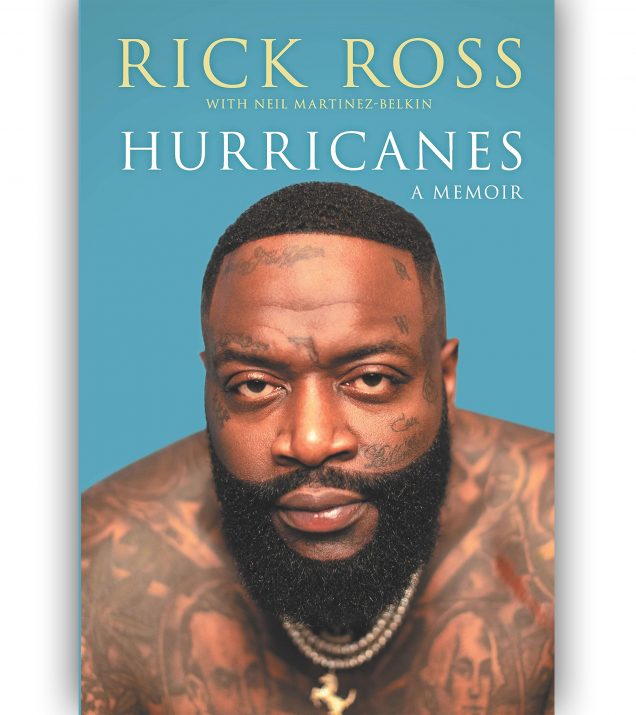 Rick Ross' memoir ☛HURRICANES [pub: Hanover Square Press] with Neil Martinez-Belkin arrives in bookstores and e-readers Tuesday, September 3rd. Join the Miami rapper in conversation with hip-hop journalist, Rob Markman Wednesday, September 4th at The Schomburg Center for Black Culture and Research. While general admission is sold out, VIP tickets for the pre-program reception are available for readers 21 and older as "complimentary alcohol" is available. #GetLitWithPaula Click here to purchase the $35 tickets which include the chance to meet Ross and a copy of the book.
Per Harlequin Trade Publishing:
Rick Ross is an indomitable presence in the music industry, but few people know his full story. Now, for the first time, Ross offers a vivid, dramatic and unexpectedly candid account of his early childhood, his tumultuous adolescence and his dramatic ascendancy in the world of hip-hop.
Born William Leonard Roberts II, Ross grew up "across the bridge," in a Miami at odds with the glitzy beaches, nightclubs and yachts of South Beach. In the aftermath of the 1980 race riots and the Mariel boatlift, Ross came of age at the height of the city's crack epidemic, when home invasions and execution-style killings were commonplace. Still, in the midst of the chaos and danger that surrounded him, Ross flourished, first as a standout high school football player and then as a dope boy in Carol City's notorious Matchbox housing projects. All the while he honed his musical talent, overcoming setback after setback until a song called "Hustlin'" changed his life forever.
From the making of "Hustlin'" to his first major label deal with Def Jam, to the controversy surrounding his past as a correctional officer and the numerous health scares, arrests and feuds he had to transcend along the way, Hurricanes is a revealing portrait of one of the biggest stars in the rap game, and an intimate look at the birth of an artist.
Peace, Love, & Beauty,