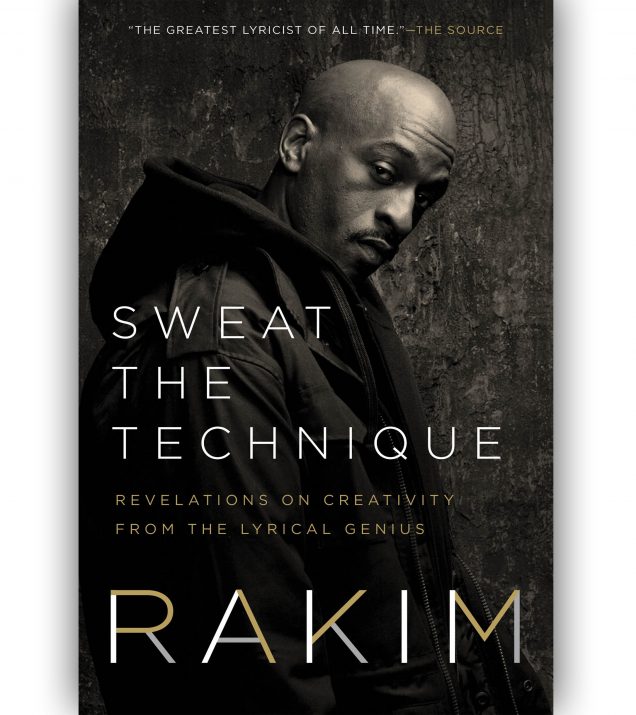 Microphone fiend and celebrated rapper Rakim's ☛SWEAT THE TECHNIQUE: REVELATIONS ON CREATIVITY FROM THE LYRICAL GENIUS  [pub: Amistad] drops on September 24th. This must-read is co-written with my fellow Source magazine alum, the illustrious Bakari Kitwana. Follow the journalist and activist on Instagram @rap.sessions.official and Twitter @thereakbakari.  Tickets for The R's conversation at The Schomburg Center for Research in Black Culture go on sale today at 8:00 a.m. on eventbrite. Click here to register for the free event. Can't make it to Harlem? Catch his book signing in Brooklyn at Powerhouse Arena in Brooklyn on Tuesday, September 24th at 7 p.m. Hit this link for registration info.
Per Harper Collins:
The musician and Hip Hop legend—hailed as "the greatest MC of all time" and compared to Thelonious Monk—reimagines the writing handbook in this memoir and guide that incorporates the soulful genius, confidence, and creativity of a master artist.
When he exploded on the music scene, musical genius Rakim was hailed for his brilliant artistic style, adding layers, complexity, depth, musicality, and soul to rap. More than anyone, Rakim has changed the way MCs rhyme. Calm on the mic, his words combine in a frenzy of sound, using complicated patterns based on multisyllabic rhymes and internal rhythms. Rakim can tell a story about a down-on-his-luck man looking for a job and turn it into an epic tale and an unforgettable rhyme. He is not just a great songwriter—he's a great modern writer.
Part memoir, part writing guide, Sweat the Technique offers insight into how Rakim thinks about words, music, writing, and rhyming as it teaches writers of all levels how to hone their craft. It is also a rare glimpse into Rakim's private life, full of entertaining personal stories from his youth on Long Island growing up in a home and community filled with musiciansto the clubs of New York and the studios of Los Angeles during his rise to the top of popular music. Rakim celebrates the influences that shaped his development, including the jazz music of John Coltrane and the spirituality of the streets, and shares anecdotes spotlighting personalities such as L. L. Cool J. and Dr. Dre, among others.
Filled with valuable lessons for every writer, Sweat the Technique reveals the heart and mind of an artist and his love for great storytelling, and always, the words.
Peace, Love, & Beauty,