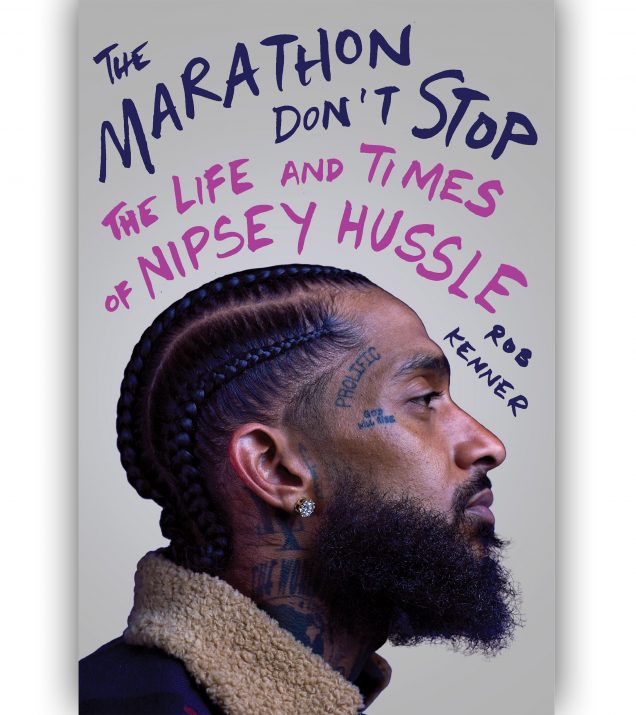 Beloved father, son, mobilizer, entrepreneur and rapper, the late Nipsey Hussle's first biography ☛THE MARATHON DON'T STOP: THE LIFE AND TIMES OF NIPSEY HUSSLE [pub: Atria Books] is dropping March 24, 2020. The admittedly unauthorized book is written by respected hip-hop journalist Rob Kenner. 
Rob is an O.G. in music journalism and I'm looking forward to this read. Full disclosure: I know Rob. He interviewed me for a Vibe gig many moons ago when I was looking to leave Time Out New York back in the '90s. I landed at The Source instead. Our paths have crossed a few times since, including a lunch meeting about acquiring my manuscript for my first novel ☛THE CHEATING CURVE for Vibe Street Lit. Click here to read Rob's interview with Complex discussing The Marathon Don't Stop. #TMC
The last time I spoke with Nipsey Hussle, he told me, 'I ain't outside giving out jewelry or dropping off bags of money on people, but I'm giving out game,'" Kenner says. "This book is my attempt to help fulfill that intention. The Marathon Don't Stop will also place his accomplishments in proper historical context, giving Nipsey Hussle his rightful place in the history of hip-hop, Los Angeles, and America. It will include interviews with people who haven't spoken before, as well as insights into the forces that shaped Hussle into the man he became.
—Rob Kenner
Per Atria Books:
The first in-depth biography of Nipsey Hussle, the hip hop mogul, artist, and activist whose transformative legacy inspired a generation with his motivational lyrics and visionary business savvy—before he was tragically shot down in the very neighborhood he was dedicated to building up.
In the ten years since he first met Nipsey Hussle in the offices of Vibe, journalist Rob Kenner followed Hussle's career, paying close attention to the music and business movement he was building in Los Angeles. Ten years later, they spoke again. To Kenner, it became clear that Hussle had been underestimated his entire life—not just for his artistry but also for his intellect and intentions.
For Nipsey Hussle, "The Marathon" was more than a mixtape title or the name of a clothing store; it was a way of life, a metaphor for the relentless pursuit of excellence and the willpower required to overcome adversity day after day. Hussle was determined to win the race to success on his own terms, and he wanted to see his whole community in the winner's circle with him.
Combining on-the-ground reporting and candid interviews with Hussle's friends, family, and peers, The Marathon Don't Stop traces the life and work of an extraordinary artist, placing him in historical context and unpacking his complex legacy. For the first time ever, members of his inner circle will speak about the man they knew and his determination to maintain integrity amidst the treacherous extremes of street life and the rap game.
The Marathon Don't Stop is a journalistic account of Nipsey Hussle's life and times, making sense of the forces that shaped a singular figure in hip hop culture.
Peace, Love, & Beauty,