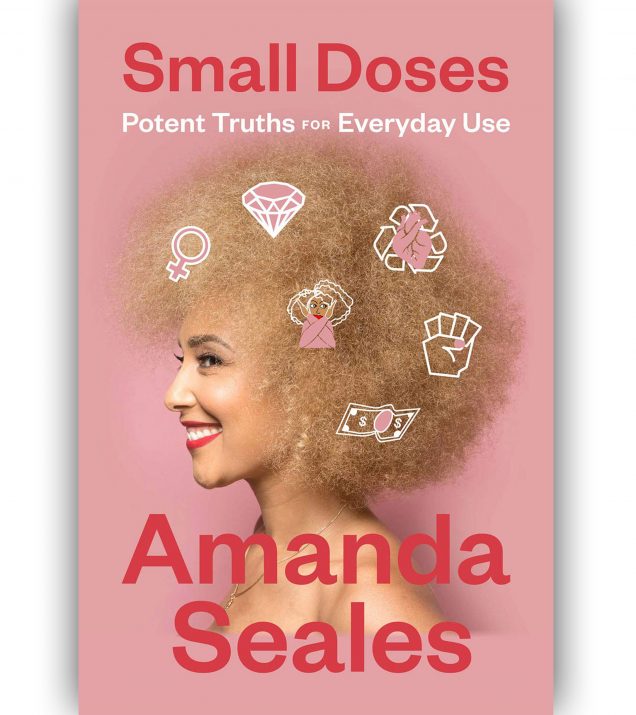 Happy Book Birthday Amanda Seales! The Insecure star's new book ☛SMALL DOSES: POTENT TRUTHS FOR EVERYDAY USE [pub: Abrams Books] arrives in bookstores today.
Admittedly, I only listen to her Small Doses podcast from time to time. Nonetheless, I thoroughly enjoyed her hilarious creation Smart, Funny &Black—"a game show that serves as a safe space for the Black voice, and celebrates the many contributions Black Americans have made to history, pop culture and more"—this past summer at the world famous Apollo Theatre in Harlem. We sang Lift Every Voice And Sing, did the electric slide down the rows of our seat and laughed and clapped at so many Black pop and historical facts, our bellies and hands hurt so good. Raising a glass to more of that, please. Kudos, sis.
Per Abrams Book:
Comedian, writer, actress, and social media star Amanda Seales is a force of nature who has fearlessly and passionately charted her own course through life and career. Now, in her one-of-a-kind voice that blends academic intellectualism, Black American colloquialisms, and pop culture fanaticism, she's bringing her life's lessons and laughs to the page. This volume of essays, axioms, original illustrations, and photos provides Seales's trademark "self-help from the hip" style of commentary, fueled by ideology formed from her own victories, struggles, research, mistakes, risks, and pay-offs. Unapologetic, fiercely funny, and searingly honest, Small Doses engages, empowers, and enlightens readers on how to find their truths while still finding the funny!
Peace, Love, & Beauty,