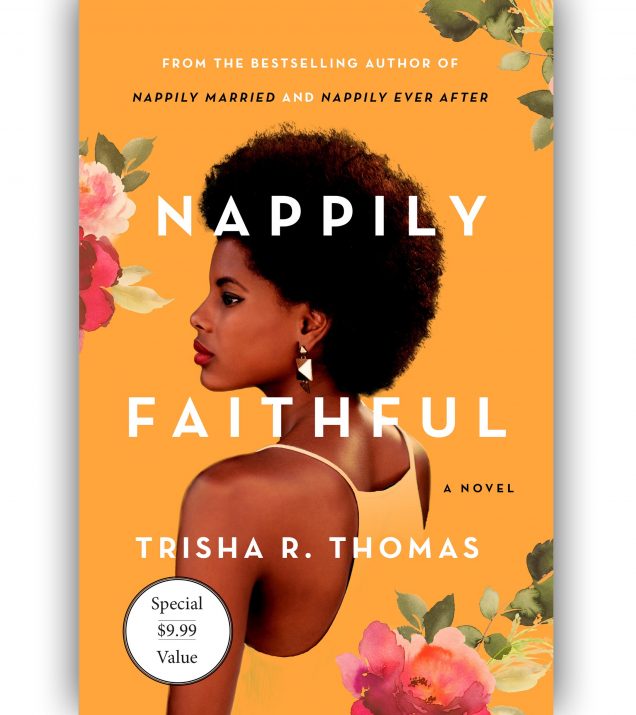 This past Sunday ☛NAPPILY EVER AFTER author Trisha R. Thomas posted a gorgeous, vibrant new cover for her third novel in the Nappily series ☛NAPPILY FAITHFUL [pub: St. Martin's Griffin] on Instagram. The original version was published by St. Martin's Press back in 2008. "Re-issues are rare and a very good thing for authors who are slowly writing the next great works," shares Thomas in her post. "Thanks for your patience."
My 2008 Nappily Faithful hardcover is still in pristine condition. The reissue, no, wait, the entire series is a great holiday gift for the book lover on your Christmas and Kwanzaa lists!
The Original Nappily Faithful [Nappily #3] Book Cover Published in 2008
Per Macmillan Publishers:
Venus Johnston returns with another misadventure in the joys and pains of love, motherhood and marriage in Trisha R. Thomas's Nappily Faithful, third in the series that began with Nappily Ever After–now a Netflix Original movie starring Sanaa Lathan.
Hoping to get away from emotional baggage in Los Angeles, Venus and Jake move to Atlanta. Yet the constant cloud of the past follows them: a difficult pregnancy and Jake being charged for the murder of his accountant. Though Jake never spent one night in jail, he fears the case will be reopened and he'll once again have to fight for his freedom.
And the timing couldn't be worse since Airic, the biological father of Venus' daughter Mya, suddenly demands parental rights with the child he hasn't seen since her birth. A nasty custody battle ensues. Airic's new wife, Trevelle Doval, a famous TV evangelist–may be behind his sudden interest. Venus is in for the biggest fight of her life.
Nappily Married [Nappily #2] Original Book Cover 2007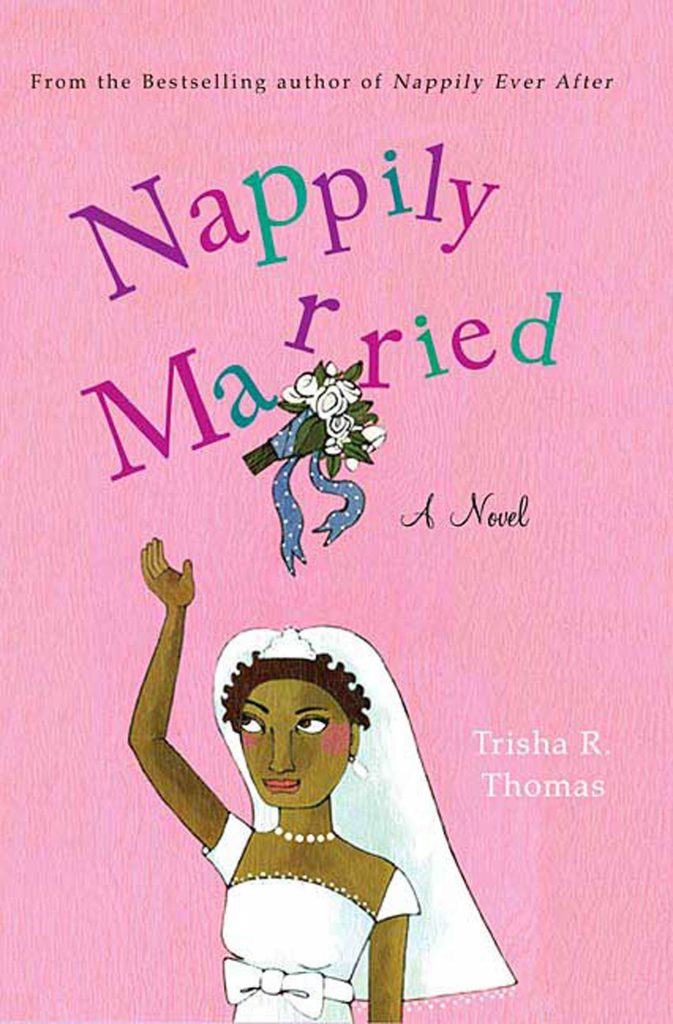 Per Macmillan Publishers:
Trisha R. Thomas's Nappily Married is the sequel to Nappily Ever After, which is now a Netflix Original movie starring Sanaa Lathan.
Venus Johnston debuted with brazen personality and spirited humor in Nappily Ever After as she searched for the holy grail of marriage. Blessed with a beautiful baby daughter and a husband who is a former rap star with his own multi-million-dollar clothing company, her long journey to find love has finally come to fruition. But life as a stay-at-home wife and mother is hardly the end of the rainbow. In fact she's ready to do anything to jump-start the career she's put on the back burner for the last two years.
Against her good sense and her husband's wishes, she applies for a high-profile PR job to help save a struggling city hospital manned by none other than her former boyfriend, Dr. Clint Fairchild, the very one and same who dumped her and married long-silky haired bombshell, Kandi Treboe. Venus soon finds out the two women are vying for the same job. This time competition between she and her old nemesis turns into a battle Venus is determined to win by any means necessary.
With an unhappy hubby at home, a nanny who's becoming mommy in her child's eyes, while forming an uncomfortably close relationship with her husband, and a deviant at work sabotaging the hospital, Venus may have taken on much more than she can handle.
Nappily Ever After Paperback 2001. But the Netlfix Sticker is 2019. Not sure this qualifies as a reissue, though.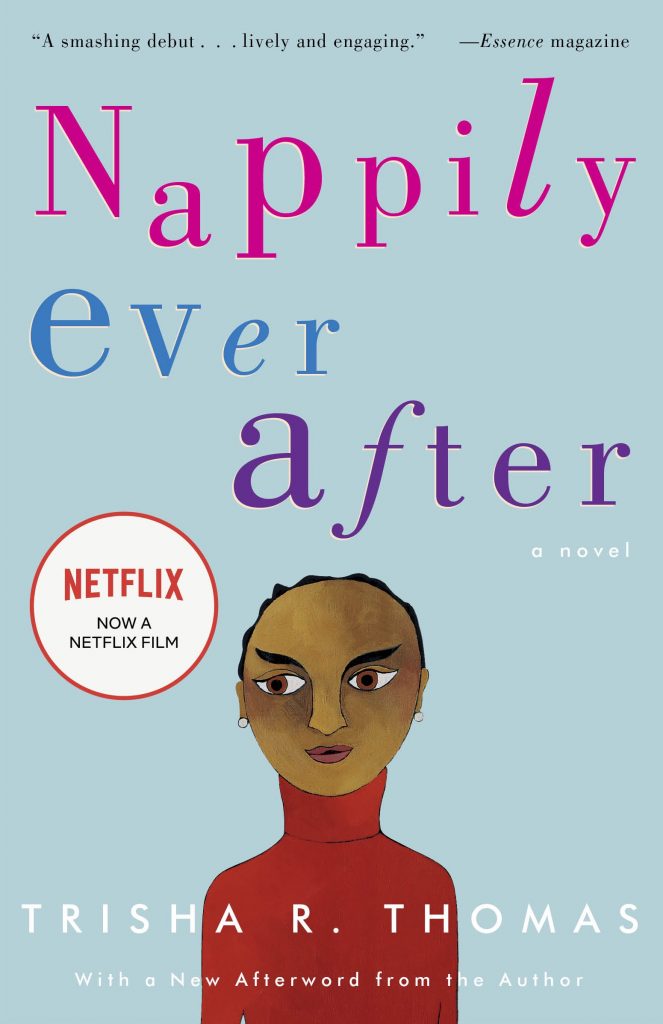 Nappily Ever After Original Hardcover 2000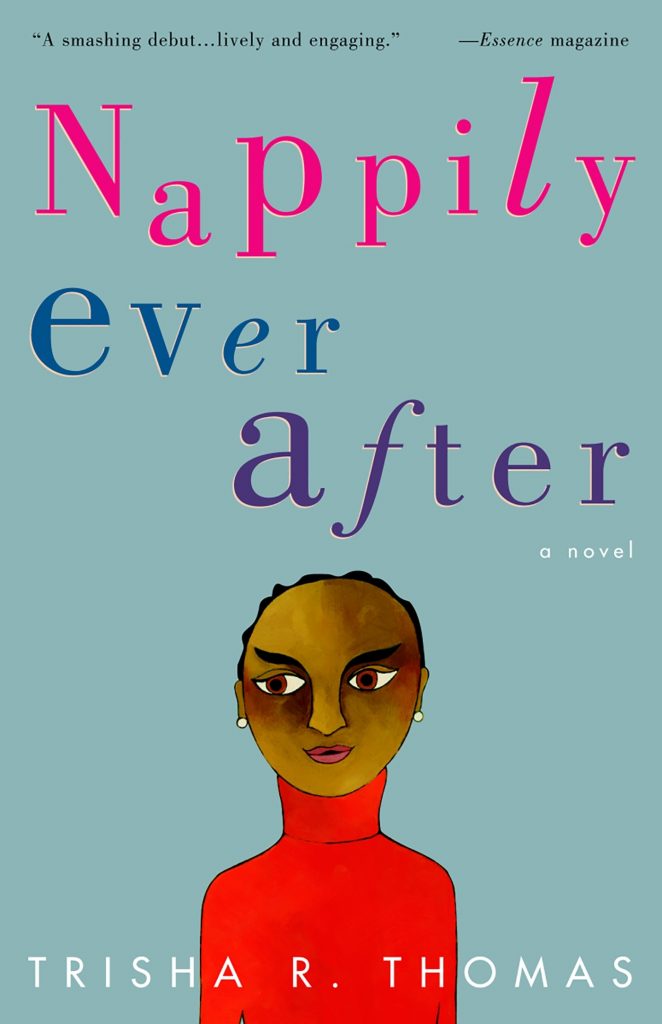 Per Penguin Random House:
Now A Netflix Original Film Starring Sanaa Lathan
What happens when you toss tradition out the window and really start living for yourself?
Venus Johnston has a great job, a beautiful home, and a loving live-in boyfriend named Clint, who happens to be a drop-dead gorgeous doctor. She also has a weekly beauty-parlor date with Tina, who keeps Venus's long, processed hair slick and straight. But when Clint–who's been reluctant to commit over the past four years–brings home a puppy instead of an engagement ring, Venus decides to give it all up. She trades in her long hair for a dramatically short, natural cut and sends Clint packing.
It's a bold declaration of independence–one that has effects she never could have imagined. Reactions from friends and coworkers range from concern to contempt to outright condemnation. And when Clint moves on and starts dating a voluptuous, long-haired beauty, Venus is forced to question what she really wants out of life. With wit, resilience, and a lot of determination, she finally learns what true happiness is–on her own terms. Told with style, savvy, and humor, Nappily Ever After is a novel that marks the debut of a fresh new voice in fiction.
Peace, Love, & Beauty,