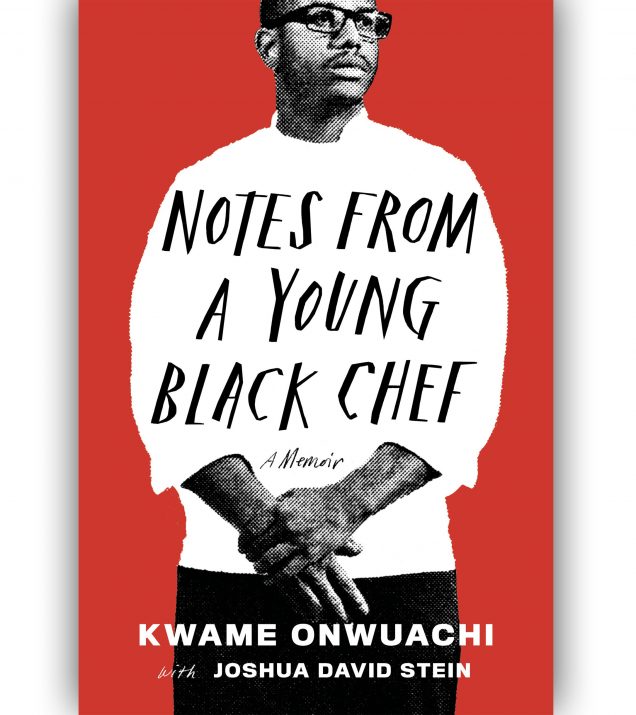 Been waitin' with breath that is baited to purchase 2019 James Beard Award-winning chef Kwame Onwuachi's ☛NOTES FROM A YOUNG BLACK CHEF with Joshua David Stein [pub: Knopf]. At risk of getting kicked out of the #BlackGirlsRock sorority, I love this memoir more than Michelle Obama's beautifully written BECOMING. Full disclosure, I still haven't finished our Forever First Lady's autobiography, but I will. And it's not to compare, but NOTES FROM A YOUNG BLACK CHEF is the most riveting memoir I've read in a long time. Though I have a feeling HABEN: THE DEAFBLIND WOMAN WHO CONQUERED HARVARD LAW will challenge that in a couple of months. The owner and executive chef at D.C.'s Kith/Kin had me at, "It's October, it should be night already, but the sun is taking her sweet-ass time leaving the stage," on page three.
The Top Chef alum tells a captivating story. His shit moves. We follow the Bronx-bred 29-year-old from his current residence of D.C. back to New York City and then to Nigeria with more stops between and beyond. Kwame fails up and falls down. And he gets back up every single fuckin' time with more gumption and determination. The Culinary Institute of America alum preps food alongside his mom for some of Harlem's Black elite, reluctantly joins a gang in his teens, launches a catering company before he can legally drink, gets kicked out of college for selling drugs, hustles candy on a subway until it potentially jeopardizes his life and opens one of the most anticipated restaurants of this decade at 26, only to have it close within three months of opening. 
Food critics questioned his audacity, not necessarily his talent or skill (mind you) to be so young launching his first restaurant with a $185 per guest tasting menu and yet it's his audaciousness that attracts me most to Kwame and his story. His deftness at navigating between not just two worlds—'cause let's be honest Black America is a multi-dimensional macrocosm not limited to duality—and the different versions of himself, resonate profoundly because it is the reality of so many Black men and women. And I'm not referring to simply code switching. I'm talking about thriving in places where people that look just like you and folks that look nothing like you both prey and pray on your downfall. This ain't a movie, dog. Though, it should be. Oh, and the personal recipes at the end of each chapter, love!
I finished this 271-page hardcover in three days. Below are just a few of my favorite Kwame quotes:
I've been yelled at enough to know that anger breeds anger, not excellence…
I realized that being a cook wasn't only about providing people with food, but rather about providing them with the feeling that they were cared for. 
Obedience is not an option when the system is aligned against you.
I accepted that $1000 from Jaquan with nothing but love and gratitude. I don't care where he got it. That money was clean. I accepted the $200 from my dad with nothing but resentment and pain. I don't care if he paid taxes or how he earned it. That money was dirty.
If the price for being on TV was to become a caricature, I'd rather remain uncast.
I keep my anger on a tight leash. But it's infuriating and pathetic that I'm the latest generation of black kids who have to soft-shoe their way around authority with this deferential bullshit.
I thought about how so many of my earlier struggles had come to help me now. How being left on my own as a teenager gave me a leg up when it came to being a self-starter; how building a business, first with Nutcrackers and then with weed, translated quite easily into catering; how those sweaty claustrophobic nights on the Maine equipped me to deal with pressure. I wouldn't change any of it.
The difference between an amateur and a professional chef isn't always a matter of skill or knowledge, and it's rarely one of taste. What makes a professional chef is that he or she has had technique imprinted onto them with the permanence of a tattoo and that they have withstood the pain of the process.
The most insidious kind of racism isn't always being called the N-word. At least that's shameless enough to get you fired. It's the unspoken shit, the hard-to-prove, hard-to-pin down, can't-go-viral day-to-day shit. It's being passed over, time and time again. It's having opportunities you know you earned never materialize.
… there are a bunch of people who seem real concerned about my education, as long as that education is the lesson they want to teach me.
Per Penguin Random House:
 By the time he was twenty-seven years old, Kwame Onwuachi had opened—and closed—one of the most talked about restaurants in America. He had launched his own catering company with twenty thousand dollars that he made from selling candy on the subway, yet he'd been told he would never make it on television because his cooking wasn't "Southern" enough. In this inspiring memoir about the intersection of race, fame, and food, he shares the remarkable story of his culinary coming-of-age.
Growing up in the Bronx, as a boy Onwuachi was sent to rural Nigeria by his mother to "learn respect." However, the hard-won knowledge gained in Africa was not enough to keep him from the temptation and easy money of the streets when he returned home. But through food, he broke out of a dangerous downward spiral, embarking on a new beginning at the bottom of the culinary food chain as a chef on board a Deepwater Horizon cleanup ship, before going on to train in the kitchens of some of the most acclaimed restaurants in the country and appearing as a contestant on Top Chef.
Onwuachi's love of food and cooking remained a constant throughout, even when he found the road to success riddled with potholes. As a young chef, he was forced to grapple with just how unwelcoming the world of fine dining can be for people of color, and his first restaurant, the culmination of years of planning, shuttered just months after opening. A powerful, heartfelt, and shockingly honest story of chasing your dreams—even when they don't turn out as you expected—Notes from a Young Black Chef is one man's pursuit of his passions, despite the odds.
Peace, Love, & Beauty,