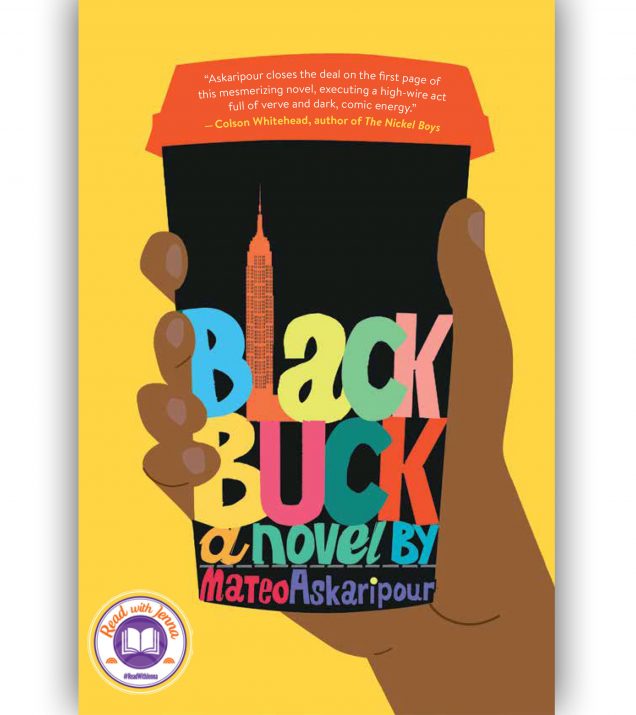 There's nothing like a Black salesman on a mission… MLK, Malcolm X, James Baldwin, Jean-Michel Basquiat, and Frederick Douglass were all salesman. Hell, Nina Simone, Rosa Parks, Harriet Tubman, and every other black woman who achieved any leap of success was a saleswoman… Each and every one of these people was selling something more precious than gold: a vision. A vision for what the world could look like if millions of people were to change their minds—the hardest thing to change.
—Buck in the Author's Note
Just as I'd started reading Mateo Askaripour's scintillating page turner ☛BLACK BUCK, I was lucky enough to catch his Greenlight Bookstore conversation with fellow author Nafissa Thompson-Spires. I've listened to several interviews with Mateo since then, and am genuinely floored that, short of Nafissa and Spines & Vines creator and bookstagrammer Jamise Harper, so few interviewers and reviewers mention how the title of the book is provocative at best and racist at worst, intentionally so, but still. Nonetheless, I can't front. It was both the title and vibrant cover design that hooked me. 
People buy based on emotion and justify with reason.
—Buck schooling readers
First of all, I love every single time the main character breaks the fourth wall to speak directly to the reader. Full confession: I legit wrote down most of Buck's advice that he so gratuitously bestowed. I also love that the New York Times best seller is written like a manual and a "cautionary memoir." More than any of that though, I love that the 24-year-old debut author created characters that still linger with me—the kind I find myself talking about, as if I know them personally, days after finishing the novel.
Take Darren/Buck's 50-year-old, good-looking mother who could pass for 35 with makeup, 40 without, and who allows her son to occupy the entire top floor of the brownstone they own because "grown men need their space." I know sis! His childhood best friend Jason that hugs the corner and struggles more than Darren to find his footing in life. Yup. Familiar. His wise, gardening downstairs tenant, Mr. Rawlings reminds me of so many of the elderly and spirited neighbors that I grew up with as well as the ones I currently chat with daily (from a safe distance and with our masks on). Wally Cat, the all-knowing hood philosopher is too real. Oh, and I can't forget the main character, Darren—who is renamed Buck…by a white superior (for real)—a content 22-year-old Starbucks supervisor [also valedictorian of the elite Bronx High School of Science] who loves his job, his Yemeni girlfriend, his uncomplicated life and his Bedford-Stuyvesant neighborhood in Brooklyn, New York until a convo with Rhett, a Starbucks regular who convinces Darren to work for him at his tech startup Sumwun. [Random sidenote: one of my favorite things about Black fiction is the way our authors describe skin tone because we almost always liken it to food. So when the Long Island-raised Brooklynite describes Darren's skin as "comparable to the rich carmel of a Werther's Original" I hollered! It's one I hadn't heard.]
So your voice is your appearance. A shitty voice…will make them think you buy your clothes from the clearance rack at Kmart. A strong, passionate voice will make them think you're wearing Gucci, Versace, or whatever you and your dogs are into. Got it?
—Clyde training Buck
While many described Black Buck as a satire, I did not read it that way at all. The micro-aggression that Darren experiences in an all-white office? Too real. Granted, as ridiculous as it is that six different white people ask Darren/Buck if anyone's ever told him that he looks like MLK, Sidney Poitier, Malcolm X, Morgan Freeman, Dave Chappelle, or Drake, it's still believable. Oh, and the idea of homeless people being auctioned, while horrifying, still believable. Illegal, yes. Unfathomable, no. 
…in any game, you gotta have a short-term memory. Someone tell you some shit you don' like? Forget it the minute they mouth close. Someone tell you some shit you do like? Man, …you betta forget that shit even quicker."
—Wally Cat advising Darren
This book reads like a movie and the fact that there's a Hollywood bidding war to adapt it does not surprise me. I rooted for Darren and hated Buck, then sympathized with Buck and missed Darren. I despised all of his co-workers, except one, ok, one and a half. I laughed a lot. I teared up a couple of times. My heart raced once, my bad, twice. And my mouth dropped open often. While my biggest small issue is when Buck states, "…there's no such thing as a halfway crook" instead of directly attributing Queens rap duo, Mobb Deep's Shook Ones Pt. II classic hook, "Ain't no such thing as halfway crooks," I still could 👏🏾 not 👏🏾 put 👏🏾 this 👏🏾 damn 👏🏾 book👏🏾 down 👏🏾. The ending, while I won't give it away, literally had me saying out loud, to no one mind you, "Damn Darren, man. Damn." Hadn't even realized I was holding my breath until I exhaled. 
I'm looking forward to the adaptation as well as more books from newcomer Mateo Askaripour. Salute Bruh. ✊🏾
Oh, before I forget, Mateo opened his virtual launch event with his own rap video. Thankfully,  he posted it on his Instagram a couple of weeks later. Check it out below:
View this post on Instagram
Black Buck Synopsis From Houghton Mifflin Harcourt:
For fans of Sorry to Bother You and The Wolf of Wall Street—a crackling, satirical debut novel about a young man given a shot at stardom as the lone Black salesman at a mysterious, cult-like, and wildly successful startup where nothing is as it seems.
There's nothing like a Black salesman on a mission.
An unambitious twenty-two-year-old, Darren lives in a Bed-Stuy brownstone with his mother, who wants nothing more than to see him live up to his potential as the valedictorian of Bronx Science. But Darren is content working at Starbucks in the lobby of a Midtown office building, hanging out with his girlfriend, Soraya, and eating his mother's home-cooked meals. All that changes when a chance encounter with Rhett Daniels, the silver-tongued CEO of Sumwun, NYC's hottest tech startup, results in an exclusive invitation for Darren to join an elite sales team on the thirty-sixth floor.
After enduring a "hell week" of training, Darren, the only Black person in the company, reimagines himself as "Buck," a ruthless salesman unrecognizable to his friends and family. But when things turn tragic at home and Buck feels he's hit rock bottom, he begins to hatch a plan to help young people of color infiltrate America's sales force, setting off a chain of events that forever changes the game.
Black Buck is a hilarious, razor-sharp skewering of America's workforce; it is a propulsive, crackling debut that explores ambition and race, and makes way for a necessary new vision of the American dream.
For your listening pleasure 😜 Mobb Deep's Shook Ones Pt. II
Peace, Love, & Beauty,