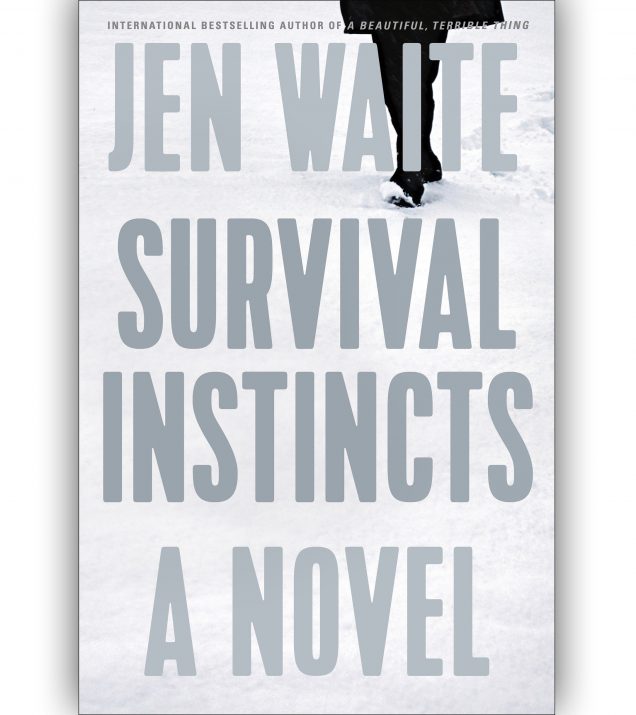 My Insta homie Jen Waite, the author of one my favorite memoirs ☛A BEAUTIFUL, TERRIBLE THING [pub: Plume] released her first novel, ☛SURVIVAL INSTINCTS [pub: Dutton] back on July 14th. So proud of her for weaving this suspenseful story of a daughter, mother and grandmother using their combined mental and physical strength to not only save each other, but unravel how their complicated and sometimes, deceitful past choices and circumstances lead to three generations of women being held hostage in a remote New Hampshire cabin.
While it took me almost two weeks to finish Survival's Instinct [life happens during a pandemic], I was immediately endeared to the character Rose, mother to Anne and grandmother to Thea. The early-rising entrepreneur is bakes-your-favorite-cookies-from-scratch sweet, yet knows-how-to-shoot-a-gun protective. I loved the sage advice she gave Anne about her pre-teen granddaughter needing to "find out who she is beyond your relationship. It's natural… the whole spreading of the wings thing."
On a very personal note, I'm still waiting for Jen's real life story, as shared in her riveting memoir A Beautiful, Terrible Thing, to be made into a movie. In the meantime, I'll treasure my personalized copy of Survival Instincts.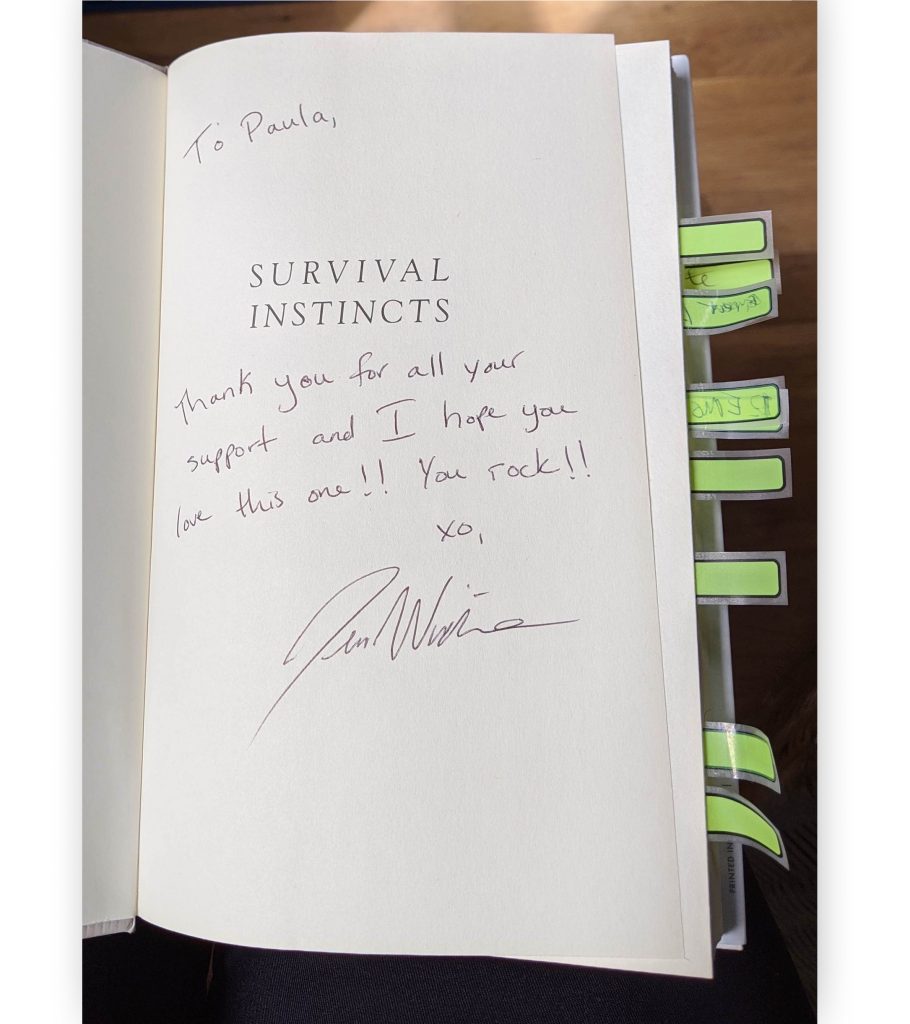 Check out Jen narrarating an excerpt from her debut novel:
Full disclosure: I'd be remiss if I didn't admit that I'd read about Survival Instincts' "problematic scenes" on Jen's Instagram [shown below] before I even read the novel. I made a mental note to keep those scenes in mind and, well, ended up reading right past them. Not sure if this indicative of my own tone-deafness, ignorance or engrossment in the story. Clearly, I too have work to do.
While I admire Jen and her publisher's acknowledgment of privilege and decision to make "necessary" edits to the "ebook, audiobook, paperback and all future re-printings." I'd be lying if my censorship concerns weren't raised as well. I respect and agree with Dr. Toya Scaggs for pointing out the stereotypes such as the mother's view of French as a more sophisticated language than Spanish, and the Spanish teacher described as "a squat, mean woman with short black hair and a large mole on her top lip" who is ultimately replaced by a white male teacher. My question is: could it still be a teachable moment without removing or editing the scenes if they reveal the characters' inherent biases and/or ignorance? I mean characters are supposed to be flawed and just like humans, sometimes they grow and change. What say you?
Book Description Per Penguin Random House:
By the bestselling author of A Beautiful, Terrible Thing, a haunting thriller about a mother and daughter who must draw strength from each other when they find themselves trapped in a cabin with a stranger who wants to either control them–or kill them.
FOURTEEN YEARS BEFORE THE CABIN: Twenty-something Anne meets the man of her dreams right out of college, but after they get married, Anne notices that her husband begins acting differently. Why is Ethan suddenly so moody? And will their marriage endure?
A WEEK BEFORE THE CABIN: Ten years later, Anne and her twelve-year-old daughter, Thea, are safely living in Vermont. Anne is a successful therapist, Thea has friends at her new school, and they receive an endless stream of love, support, and baked goods from Anne's sweet mom, Rose. When Thea takes to brooding and showing classic signs of teen angst, a trip for the three women to the White Mountains of New Hampshire seems like the perfect chance to bond.
THE CABIN: A man follows the three women on a hike at a nature reserve and drags them at gunpoint to an abandoned cabin in the woods. And just like that their peaceful weekend away turns into a fight for survival. It isn't clear what this man wants from these women or how he is connected to them if at all, but it is increasingly clear that they won't all get out of the cabin alive.
Survival Instincts is a captivating and terrifying novel that brings to life one of the scariest truths of all–that people's inner monsters come in various forms, some more recognizable than others, and that we are all one random encounter away from tragedy.
Peace, Love, & Beauty,