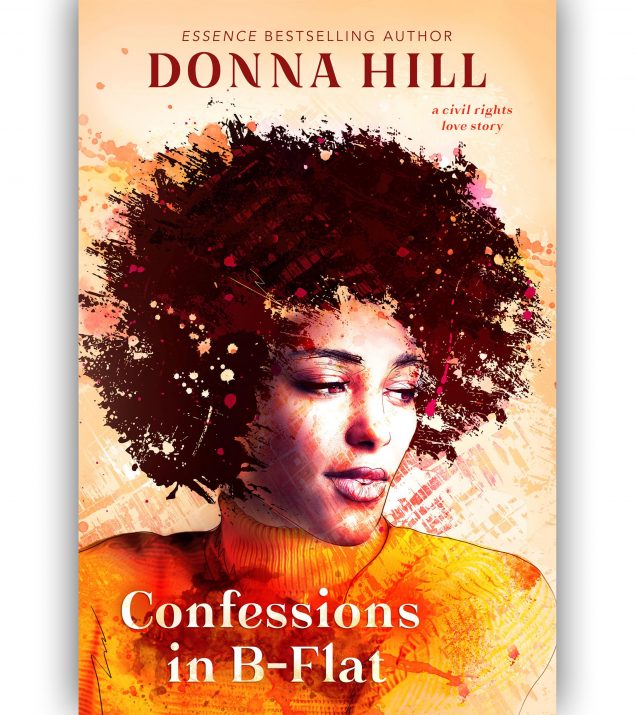 Violence was what this country was built on, but it could not be the way it survived.
Long time novelist Donna Hill's latest book ☛CONFESSIONS IN B-FLAT [pub: Sideways/Entangled Publishing] is a beautiful and enjoyable Black Love story that sparks on a New York City-bound Greyhound bus in the tumultuous year of 1963, post the March On Washington. Now, this is no spoiler and I pray that it's not even a history lesson, but 1963 is the year that four young Black girls—Cynthia Wesley (14), Carole Robertson (14), Addie Mae Collins (14) and Denise McNair (11)—were brutally murdered in the bombing of the 16th Street Baptist Church in Birmingham, Alabama. It is also the year that president John F. Kennedy was assassinated in Dallas, Texas. Yet, despite this horrifically violent and racially divided time, Jason Tanner, a follower of Dr. Martin Luther King Jr. and Anita Hopkins, a student of Malcolm X find themselves so strongly attracted to each other that it's palpable and intoxicating for them and the reader.
You're just like the rest of the idealists: you don't understand the message. It's not about violence. It's about not backing down in the face of the enemy.
—Anita Defending Malcolm X
Anita is a Bed-Stuy, Brooklyn-born, by-any-means-necessary activist as well as a  waitress and a poet who serves and performs at B-Flat Lounge in Harlem, USA. On the contrary, Jason is an Atlanta transplant who leaves the southern security of his Georgia family and friends to open a Harlem office for Dr. King's non-violent movement. When Anita serendipitously runs into Jason for the second time, she flirtatiously renames him "Do-Gooder." In spite of their differing philosophies, there's no denying their mutual belief in the liberation and empowerment of Black folks or their blossoming fondness for each other.
The live music, inexpensive food, and stiff drinks were a major draw, and there were never enough waitresses to keep up with the demands of the clientele.
—B-Flat Lounge On A Friday Night In Harlem, September 1963
So much good tension and music transpire at B-Flat Lounge. Felt like I was there with them drinking and dancing and grooving, in spite of the civil unrest that was happening across the nation. Speaking of music, I love how Donna Hill weaves classic soul and R&B from Martha and the Vandellas' "Heat Wave" and Mary Wells' "The One Who Really Loves You" to the Four Tops' "Baby I Need Your Loving" to Little Stevie Wonder's "Fingertips." They take us back to a time, not so distant or different from now. The tunes serve not only as a backdrop, but also a much needed reminder that music is still a salve. In fact,  I'ma need good sis to create a Confessions In B-Flat playlist to share with her readers upon launch. 
My only or biggest criticism of this soulful romance is the sudden sped up pacing towards the end. It felt a little rushed from Chapter 19 on. I wasn't expecting it to move so fast as I enjoyed the crafting of actual events and places with the fictional, yet natural and believable unfolding and unwinding of a new relationship, sort of  like a sensual slow drag to The Miracles' 1962 hit "You Really Got A Hold On Me." Nonetheless, I couldn't get enough of this "civil rights love story." Confessions in B-Flat releases on Tuesday, November 24, 2020. 
It's worth noting that the author shares in her dedication, that she submitted her manuscript for final edits before the death of Civil Rights icon John Lewis—who is mentioned a few times in the novel, along with Andrew Young, Ralph Abernathy, Jesse Jackson, Adam Clayton Powell and so many more heroes of the movement. Hill dedicates the novel to Lewis and other freedom fighters that he inspired to make "good trouble." 
AVAILABLE FOR PRE-ORDER
SMOKEY ROBINSON & THE MIRACLES 1964 PERFORMANCE OF THEIR 1962 HIT "YOU REALLY GOT A HOLD ON ME" 
Confessions In B Flat Synopsis from Entangled Publishing, LLC:
The year is 1963. In Harlem, the epicenter of Black culture, the fight for equality has never been stronger. The time is now. Enough is enough. Yet even within its ranks, a different kind of battle rages. Love thy neighbor? Or rise up against your oppressors?
Jason Tanner has just arrived in New York to help spread the message of his mentor, Dr. Martin Luther King, Jr., of passive resistance, while beat poet Anita Hopkins believes the teachings of Malcolm X with all her heart: that the way to true freedom is "by any means necessary." When Jason sees Anita perform her poetry at the iconic B-Flat lounge, he's transfixed. And Anita has never met anyone who can match her wit for wit like this…
One movement, two warring ideologies—can love be enough to unite them?
Confessions in B-Flat is a celebration of the hard-won victories of those who came before us, and a stark reminder of just how far we still have to go.
Peace, Love, & Beauty,