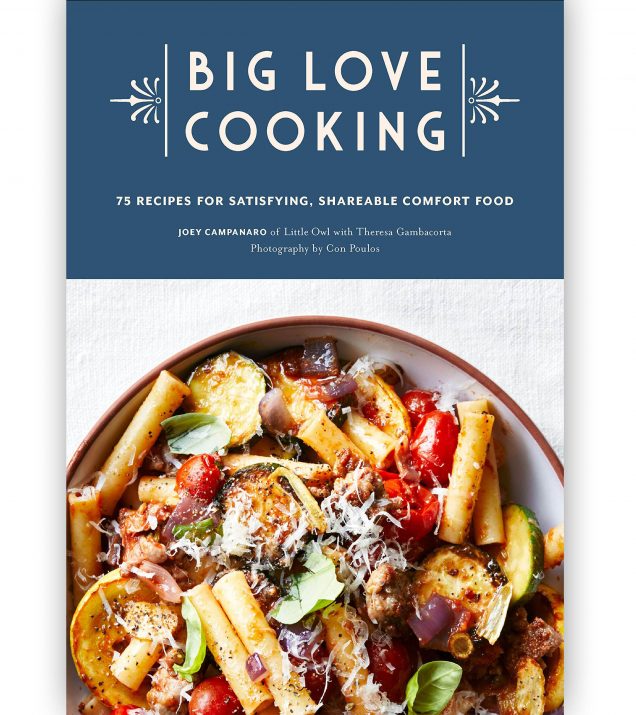 Last month my friend, former employer, and fellow classic hip-hop and R&B lover Chef Joey Campanaro released his heartwarming cookbook ☛BIG LOVE COOKING: 75 RECIPES FOR SATISFYING, SHAREABLE COMFORT FOOD [pub: Chronicle Books] with another talented friend, Theresa Gambacorta.
On Wednesday, May 1, 2019, I was invited to the Sunday Supper photo shoot at Little Owl restaurant. I worked part-time in the office at the time as the Receptions Director for Blackfoot Hospitality. My son was also invited to the shoot and while my face doesn't appear in the book, ahem, his does. 🤩 I thoroughly enjoyed and devoured Joey's food as always.
JC cooks with love and Little Owl feels like home. With so much discomfort in the world, Big Love Cooking is just the warm hug we all need. Pick up this easy-to-follow cookbook just in time for the holidays and gift a copy or two to your friends and family. Enjoy re-creating delicious Italian-inspired dishes and more importantly, relish in sharing a meal and time with your loved ones… virtually or safely socially distancing. 🦉❤️ #JoeyFood #AllLove
Sunday Supper photo shoot at Little Owl. The two authors Joey and Theresa are standing.
My son has a seat at the table.
Friends, family and food, oh and wine, what's better?
Joey pointing at sumthin'.
I snuck a seat and a selfie
I had the wonderful pleasure of working with Adan in the red shirt, plus Amy, Christina and Lisa behind us.
Everything was scrumptious!!
Is there such a thing as too many bottles of wine? Nah!
Big Love Cooking: 75 Recipes for Satisfying, Shareable Comfort Foods Description from Chronicle Books:
From Joey Campanaro, the lovable chef and owner of popular Little Owl restaurant in New York City!
Big Love Cooking features 75 accessible recipes infused with Mediterranean flavors inspired by Joey's Italian-American family.
This is simple, authentic food, with generous servings and nourishing, shareable meals.
• Includes stories from the restaurant, historical NYC photographs, and conversational advice
• Dishes include Little Owl Crispy Chicken, Ricotta Cavatelli with Tomato Broth, Bacon, and Fava Beans, and Brioche French Toast with Stewed Strawberries
• Features warm, inviting photography that emulates the family-style meals
With accessible recipes and familiar ingredients, this cookbook is perfect for big family meals that will please a crowd.
Recipes include mouth-watering dishes like Littleneck Clams with Juicy Bread, Mom-Mom Pizza, and Pork Chop with Parmesan Butter Beans.
Peace, Love, & Beauty,