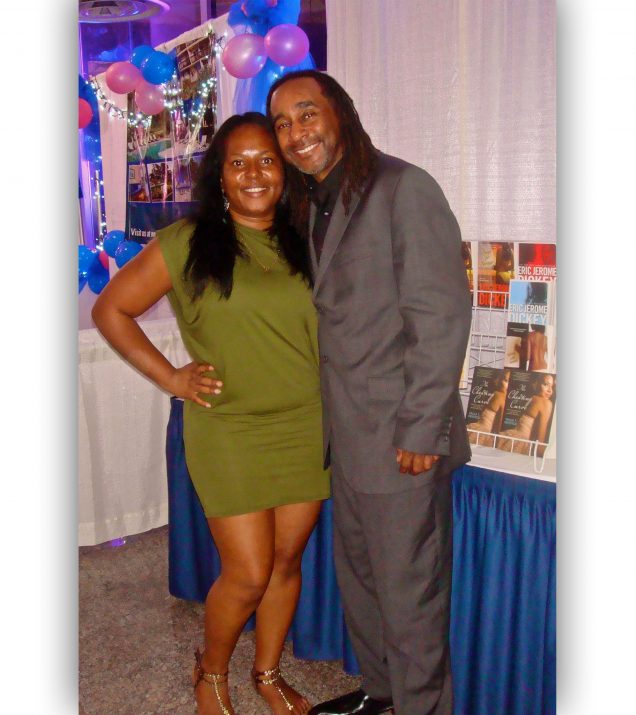 Authors Paula T. Renfroe and Eric Jerome Dickey pictured above in Barbados at the 2010 Girlfriends Expo.
I can't believe Eric Jerome Dickey passed away of cancer on Sunday, January 3, 2021. The New York Times bestselling author was only 59 years old.
I enjoyed the privilege of spending a few days with Eric in Barbados during their annual Girlfriends Expo in October 2010 thanks to my friend and Bajan Queen in her own right, Elon D. Johnson. I was promoting my first novel, ☛THE CHEATING CURVE and the celebrated novelist was on his, I dunno 100th?!
Eric was gracious and generous and kind and hilarious and not just to me, to everyone he encountered. He shared his delicious samosas with me and even recommended my book to the TONS of women waiting to get his autograph and photo. They loved them some "Dickey" and he loved them right back. Quite a few of his fans actually did buy copies of my book, as did Eric.
We lost touch, though every once in awhile I'd get a birthday shout-out from him on Facebook. Meant the world. Still does.
Eric published 29 novels, but he had way more stories than that. Trust. In fact, his latest novel ☛THE SON OF MR. SULEMAN [pub: Dutton] releases on April 21, 2021.
In my last book purge, I gave away a couple of Eric's novels thinking, hoping, believing, knowing they'd give someone else pleasure, offer them an escape. Wish I'd kept them? No. No regrets. I kept three hardcovers. And I'm keeping my fond memories of Eric.
Thank you for writing, creating, expanding and paving.
Rest well EJD. 🙏🏾❤️
Black ♛ Fact: Eric Jerome Dickey wrote six comic books featuring Storm of the X-Men for Marvel Comics in 2006.

The Son of Mr. Suleman Synopsis From Penguin Random House:
Professor Pi Suleman is a Black man from Memphis and proud of it. Still, he has to endure a lot as an adjunct professor at the city's prestigious University Along the Nile, a hard-earned career that is crushing his spirit. Pi is constantly forced to bite his tongue in the face of one of his tenured colleague's prejudice and microaggressions. At the same time, he's being blackmailed by a powerful UAN professor who threatens to claim he has assaulted her; he is unable to reveal that she is actually sexually violating him, trapped in a he-said-she-said with a white woman that, in this society, Pi knows he will never win.
 
When he meets Gemma Buckingham, a sophisticated entrepreneur who has just moved to Memphis from London to escape a deep heartbreak, things begin looking up. Though they hail from different cultures, their differences fuel a fiery and passionate connection that just may consume them both.
 
But Pi's whirlwind romance is interrupted when his absentee father, a celebrated author who long ago had an extramarital affair with his mother, passes away, and Pi is called to Los Angeles to collect his inheritance, learn about his father, and face the West Coast family that has never acknowledged him. With the complicated legacy of his famous father to make sense of, Gemma's VISA expiration date looming, and the threats of his colleague becoming increasingly intense, Pi must figure out who he is and what kind of man he will become in his father's shadow.
 
From Memphis to L.A. and back again, Eric Jerome Dickey takes readers on a powerful and intense journey as Professor Pi Suleman deals with sexual assault and racism, fights being changed by his father's truths, and also discovers untruths Gemma Buckingham has hidden for her own reasons…
Peace, Love, & Beauty,