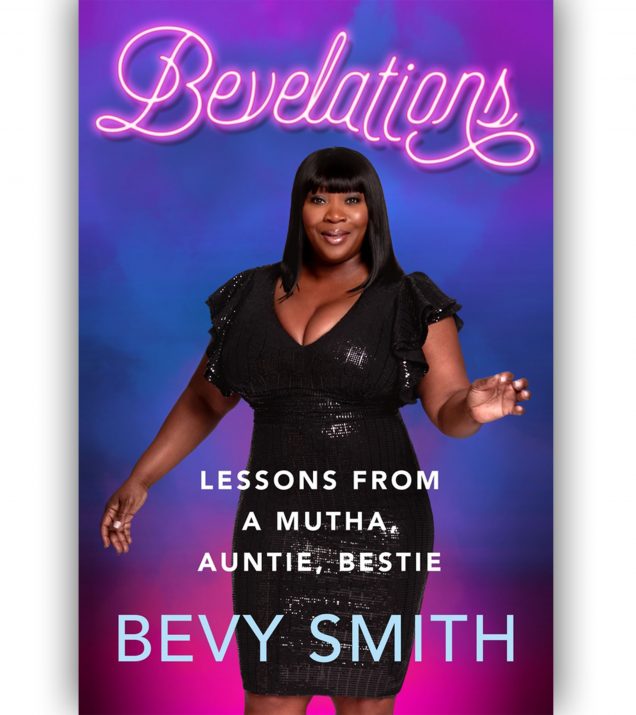 Being tethered to a career I had outgrown was like standing for two hours in a pair of six-inch spike heels: it looked good, but my feet were swollen and in agony!
Bevy Smith's candid, hilarious and heartwarming book ☛BEVELATIONS: LESSONS FROM A MUTHA, AUNTIE, BESTIE [pub: Andy Cohen Books] drops next Tuesday, January 12th and this motivational memoir is not just a must-read, it's a must-own and a must-gift. Pay 👏🏾 it 👏🏾 forward 👏🏾. I started nodding in agreement and highlighting with fervor during the first chapter, Evolution Of A Grown-Ass Woman—"Here's a Bevelation for you: True luxury is access."
I laughed throughout with revelations like, "No. I'm not naming names. I'm going to save that for my fifth autobiography, Don't Stop, Get It, Get It: The Bevy Smith Story. That will be published when I'm eighty-five and a lot of folks are dead—I'm going to "Quincy Jones" all you mofos!"
And I boo-hoo cried towards the end when Bevy asked in the chapter Smitty's Youngest—The Baby, "Do you understand what it's like to be a full-grown woman of thirty-seven and see your daddy willing to risk his own well-being for you, for your safety? That is unwavering love."
Who walks away from a job that pays well, a bona fide good thing? I'll tell you who: someone looking for a great thing, an inspiring thing, a creative thing, a feeling of freedom, a new dream.
—Bevy Smith in Evolution Of A Grown-Ass Woman
Harlem's own "gal-about-town" encourages readers to dream wide and wild, tap into their inner child in fact (for Bevy Smith that's Lil' Brown Bevy—a "sensitive, polite and studious," shy, yet imaginative "voracious reader.") However, the host of Sirius XM's "Bevelations" on Radio Andy insists you have an actionable plan to bring that vision into fruition. Oh, and that plan might take five years to actualize, as it did for her, and you still have to be ready for a hard pivot. Be not deterred, though. I just witnessed Bevy turn an idea into action just a couple of weeks ago on Instagram. On her Instagram Live, she was walking in the snow discussing New York City's resilience, particularly uptown and how it'd be great to create an après ski situation in her beloved home of Harlem. Well the next day, there was a flyer up promoting the event and the day after that, Après Ski for Charity at Melba's Restaurant in Harlem was in full effect and the proceeds were donated to New York City's Hospitality Alliance. In the words of the bodacious dreamer, "Chile, the manifestations is real in these streets."
During a good ole NYC snow day, at about the 10:42 mark, Bevy ideates…
View this post on Instagram
If I'm tired I rest. If I'm depressed I own it and wait for it to pass. And when I do something I know I shouldn't, like eat a heavy meal late at night, I pray that I have another day to get it right.
—Bevy Smith in Dare To Dream
Full disclosure: I've been following Bevy on social media for years. We've even been introduced a few times—pre-Twitter and Instagram—and share a slew of mutual colleagues, perhaps even a couple of friends. So her unbridled zest for life is familiar, yet still inspiring—she's aiming for *EGOT status, y'all! Nonetheless, her vulnerability and transparency surprised and moved me. Nevermind that Bevy divulged her big and small salaries, that she sold her soles and won some roles, that she had some court dates, and dated a rapper or two. That'd be enough disclosure. Thank God she didn't stop there, though. When Bevy writes of missing out on important life events, the loss of a loved one, even pushing past the initial discomfort of traveling alone, she opens us up to a more sensitive side of her that's genuinely touching.
"Easy" and "living your dream"—yeah, that's not a word combo you will ever see in play. None of it has been easy, but it's also not easy living a placeholder life.
—Bevy Smith in Dare To Dream
In Bevelations, there's Mutha advice for my young nieces and nephews just starting college and/or entering the workplace, "Sometimes a job is just a job…Not every career opportunity will be monumental and life-changing. Sometimes it's just a paycheck, and a stepping stone." There's Auntie wisdom for my daughter beginning her 30s and my son right behind her "…push yourself to write out your wildest, most outrageous people-will-think-I'm-crazy dreams. Remember, you don't have to share them with anyone. Just dream about what your life would look like if you didn't have insecurities or obligations." And there's Bestie inspiration for me and my peers, strutting through our early 50s "The best part about getting older is the confidence to live bolder, to be feisty and exuberant, damn what people think." Truth be told, I'm applying all of 'em. #ItGetsGreaterLater indeed. 
*Black ♛ Fact: In 1984, Miami Vice star Philip Michael Thomas coined the term EGOT, an esteemed performer who's received an Emmy, Grammy, Oscar and Tony. Thanks for putting us on Bevy!
Check out Bevy's scheduled television appearances starting this Tuesday, January 12th on ABC's Good Morning America.
AVAILABLE FOR PRE-ORDER

Bevelations: Lessons From A Mutha, Bestie, Auntie Synopsis From MacMillan Publishers:
From the host of the fabulous and popular show Bevelations on SiriusXM's Radio Andy channel, Bevy Smith's irreverent and inspiring memoir about learning to live a big, authentic, and unapologetic life—and how you can, too:
Bevy Smith was living what seemed like a glamorous dream as a fashion advertising executive, blazing a lucrative career for herself in the whitewashed magazine world. She jetsetted to Europe for fashion shows, dined and danced at every hot spot, and enjoyed a mighty roster of lovers.
So it came as quite a shock to Bevy when one day, after arriving at her luxury hotel in Milan, she collapsed on the Frette bedsheets and sobbed. Years of rolling with the in-crowd had taken its toll. Her satisfaction with work and life had hit rock bottom. But Bevy could not be defeated, and within minutes (okay, days) she grabbed a notepad and started realizing a truer path—one built on self-reflection and, ultimately, clarity. She figured out how to redirect her life toward meaningful creativity and freedom.
In her signature lively and infectious voice (there's no one like Bevy!), Bevelations candidly shares how she reclaimed her life's course and shows how we too can manifest our most bodacious dreams. From repossessing her bold childhood nature to becoming her own brand to envisioning her life's next great destination (which will feature natural hair, important charitable giving, and a midcentury house overlooking the Pacific Ocean), Bevy invites readers along on the route of her personal transformation to reveal how each of us can live our best lives with honesty, joy, and, when we're in the mood, a killer pair of shoes.
Peace, Love, & Beauty,