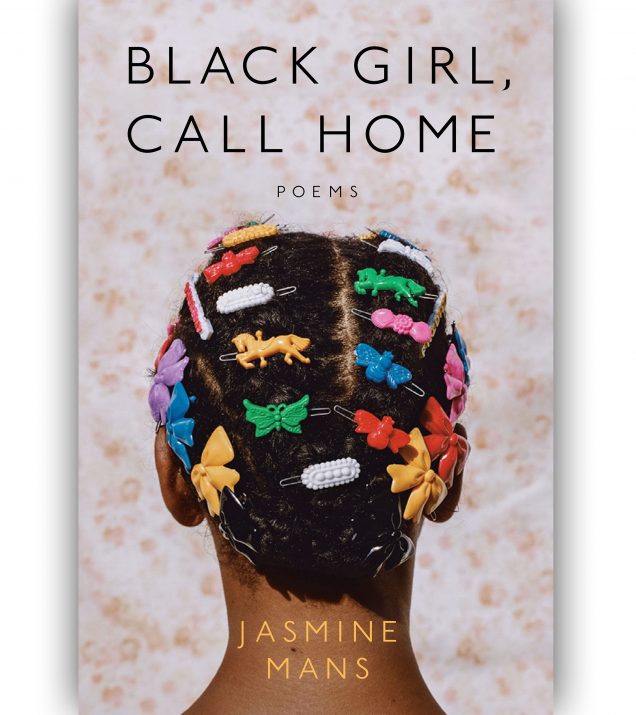 Wash/Barrettes/Twists/Crisscross/Braids/Beads/Cornrows/    Wooden brush/Edges/Silk scarf/Nappy/Kitchen/       Beady beads/4c/Coil/Ouch/SuperGrow/Straighten…
—Jasmine Mans' "Mama Has a Hair Salon in the Kitchen" 
April is National Poetry Month and I couldn't let another spring day go by without celebrating my favorite collection of poems released this year—thus far, anway—Jasmine Mans' ☛BLACK GIRL, CALL HOME [pub: Berkley]. No doubt, the eye-catching gorgeous cover is an ode to "Mama Has a Hair Salon in the Kitchen." Listen. There are no forgettable poems in this collection, however, "Momma Said Dyke at the Kitchen Table" lingers with me so much longer than it took me to read it. The searing poem's preface reads: "Before my mother knew I was a lesbian, she prepared me to be some man's wife" and the poem continues with…
"don't you know
you too pretty to be a dyke?
Why you gonna embarrass us like this,
you scared no man gonna love you,
you scared of men,
some mannnnnn hurt you,
who hurt you?
Momma said, 
so you gonna be a dyke now?"
Umph. Umph. Umph. No one can tell me the sequencing of the pieces isn't intentional, as the proceeding poem is entitled, "The First Time the Black Girl Call Her Mother a Bitch." Whew!
This collection is a keeper. I completely understand and agree with the comparisons to the great laureates Sonia Sanchez and Gwendolyn Brooks, but while reading and reciting "And Jay-Z Says "We've Moved Past Kneeling,"" "Kanye's Black Aunties," "Through the Wire," and "Footnotes for Kanye," I concluded that Nikki Giovanni must be added as well. And this is not to say, Jasmine Mans isn't her own poet with her own voice and style, 'cause she most certainly is.
I hope we get to see Jasmine Mans perform in-person soon and safely 🙏🏾😷. In the meantime, check out the Newark, New Jersey native reading her beautiful poem, "The Lite":
View this post on Instagram
Oh, and here's a mere snippet of Jasmin Mann reading "That Was Her Way of Showing God" from her collection Black Girl, Call Home:

Black Girl, Call Home Synopsis from Penguin Random House:
From spoken word poet Jasmine Mans comes an unforgettable poetry collection about race, feminism, and queer identity.
 
With echoes of Gwendolyn Brooks and Sonia Sanchez, Mans writes to call herself—and us—home. Each poem explores what it means to be a daughter of Newark, and America—and the painful, joyous path to adulthood as a young, queer Black woman.
Black Girl, Call Home is a love letter to the wandering Black girl and a vital companion to any woman on a journey to find truth, belonging, and healing.
Peace, Love, & Beauty,