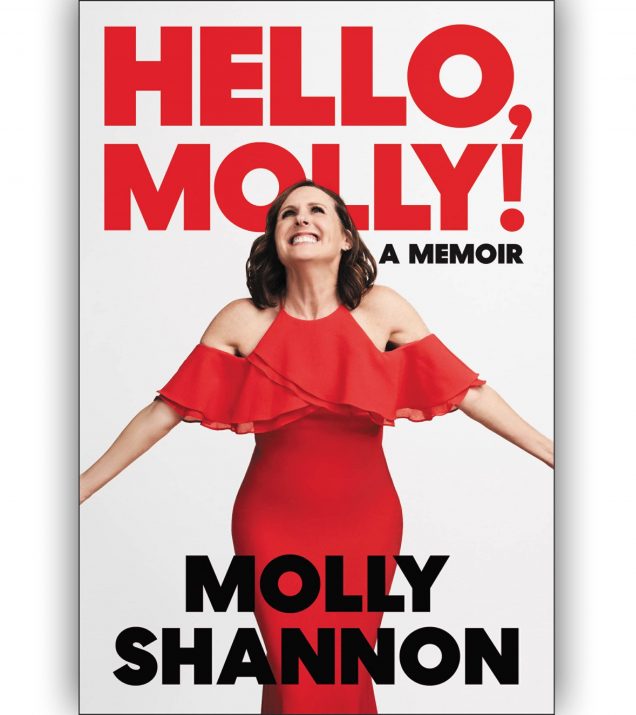 Comedian Molly Shannon is adding New York Times bestselling author to the top of her bio with the release of her "introspective, poignant, heartbreaking and hilarious" memoir ☛HELLO, MOLLY! [pub: Ecco], which dropped two weeks ago. The Saturday Night Live alum co-wrote the "equal parts funny and touching" book with writer Sean Wilsey.
I love the shout-out the co-star of Showtime's  I Love That For You recently gave a Chicago airport bookseller named Janet on Instagram. "Janet who works in the store suggested I sign the copies of books they had at the store and she just happened to have the SIGNED BY AUTHOR stickers on hand," the Emmy-nominated actress wrote on April 17th. "So so great. Thank you JANET!!" And thank you Molly Shannon for gifting us your many talents including your iconic Mary Katherine Gallagher aka Superstar! 🤸🏻‍♀️✨
Molly Shannon as the legendary Mary Katherine Gallagher aka Superstar on SNL
The gracious and talented Molly Shannon gives bookseller Janet all of her flowers on Instagram 💐. Check out Janet in the second slide below. 💗
View this post on Instagram
Catch Molly Shannon in Showtime's I Love That For You Premiering April 29th
The gloriously talented Jenifer Lewis posted her co-star Molly Shannon singing along with her on their set of I Love That For You
View this post on Instagram
Take a listen to Molly Shannon's moving interview on NPR's Fresh Air
Hello, Molly! Synopsis from HarperCollins:
At age four, Molly Shannon's world was shattered when she lost her mother, baby sister, and cousin in a car accident with her father at the wheel. Held together by her tender and complicated relationship with her grieving father, Molly was raised in a permissive household where her gift for improvising and role-playing blossomed alongside the fearlessness that would lead her to become a celebrated actress.
From there, Molly ventured into the wider world of New York and Los Angeles show business, where she created her own opportunities and developed her daring and empathetic comedy. Filled with behind-the-scenes stories involving everyone from Whitney Houston to Adam Sandler to Monica Lewinsky, many told for the first time here, Hello, Molly! spans Molly's time on Saturday Night Live—where she starred alongside Will Ferrell, Adam Sandler, Cheri Oteri, Tracy Morgan, and Jimmy Fallon, among many others. At the same time, it explores with humor and candor her struggle to come to terms with the legacy of her father, a man who both fostered her gifts and drive and was left with the impossible task of raising his kids alone after the loss of her mother.
Witty, winning, and told with tremendous energy and heart, Hello, Molly!, written with Sean Wilsey, sheds new and revelatory light on the life and work of one of our most talented and free-spirited performers.
Peace, Love, & Beauty,