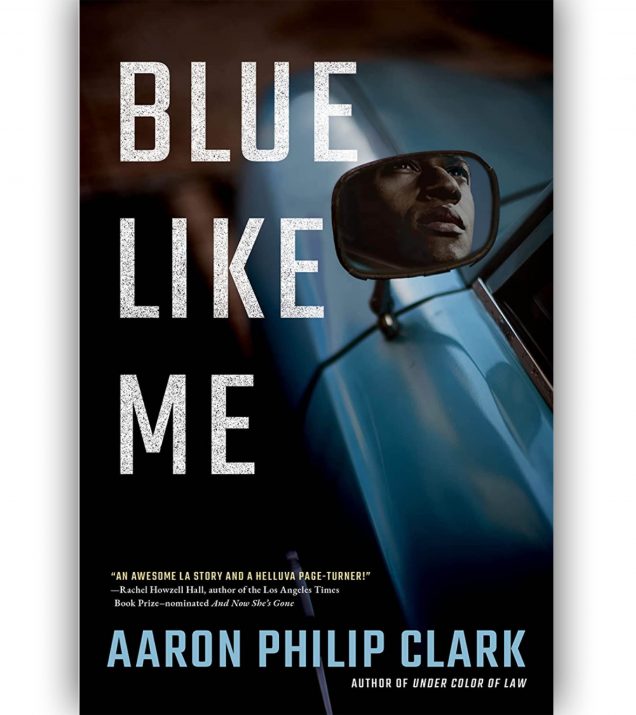 Like what's the point of me knowing a private eye?

I need dirt…

No, you need a new boyfriend.
—Private Investigator, Trevor 'Finn' Finnegan and Legal Assistant, Kimber/Chapter 2
Full disclosure: I just finished reading Aaron Philip Clark's latest novel ☛BLUE LIKE ME [pub: Thomas & Mercer] three nights before its official release today. [Happy Book Birthday, btw! 🥳 ] The Los Angeles-based crime thriller is the "second installment in the Detective Trevor "Finn" Finnegan series." No worries though, you need not read its predecessor ☛UNDER COLOR OF LAW to get into the twists and turns of the sequel. I certainly didn't, and by chapter four I was committed to not only connecting all the proverbial dots, but to solving this multi-layered crime. The thing is, there's not just one vengeful culprit, or violent transgression, or even just one unsolved murder.
Sometimes officers grow close. Lines get blurred. They start acting like an old married couple.

The job and years can do that.
—Finn/Chapter 3
The City of Angels has never been short on sinners, nor corrupt cops and when we meet former Detective Finn, he's working as a private investigator hired to "surveil two LAPD officers" having sex with young sex workers. Gross. Oh, and it's the eve of the 2016 presidential election. Still gross. Fortunately for Finn, he has a lovely lady at home—whom his father has nicknamed "Good Genes." Um, not so gross? 🤷🏾‍♀️ Even more attractive are Sarada and Finn's plans to live in France for six months where she'll fine tune her culinary skills and he'll work on his French. But alas, sometimes plans are just that…
My father always said becoming a police officer is one of the most self-destructive choices a person can make. He likened it to drowning in a lake.

The deeper one sinks, the darker things get.
—Finn/Chapter 6
While I'm not one for ruining plots or issuing spoiler alerts, I'll say this: while reading this page-turner, pay careful attention to the backstories and relationships that Clark weaves between the lines. No character, with the exception of maybe Sarada (Ok, I'm bias. I adore her.), is all good or flawless or as they initially appear. Fans of crime thrillers and even readers who dig stories with multiple plots are likely to find themselves consumed with figuring out who's the killer and why are they so damn gruesome with it? Or if you're a lover of love stories like me, whether Sarada and Finn finally make it to France or will the return of his ex ruin not just their trip, but their relationship? Or if  Finn's troubled and complex relationship with his alcoholic ex-cop dad cost them both their lives? 
Check out the author Aaron Philip Clark below on Facebook Live last night discussing Blue Like Me:

Blue Like Me Synopsis From Thomas & Mercer:
When former detective Trevor "Finn" Finnegan became a PI, he adopted a new mandate: catch the LAPD's worst in the act. While on surveillance in Venice Beach, Finn tails two potentially dirty cops: Detective Martin Riley and Finn's ex-partner, Detective Sally Munoz. Things take a deadly turn when an unknown assailant executes Riley and wounds Munoz. In an instant, Finn goes from private eye to eyewitness.
Munoz needs Finn to help find Riley's killer, but doing so could blow his cover. She's an officer shaded by rumors. Maybe she's still a good cop—but maybe she's not. Finn's reluctance ends when his dear "uncle," an ex-LAPD detective, is murdered, and it might be connected to Riley's death.
To prevent more bloodshed and avoid becoming the next targets on the killer's list, Finn and Munoz will have to bury their complicated past, trust each other, and come face-to-face with painful secrets that could destroy them both.

Under Color Of Law Synopsis From Thomas & Mercer:
Black rookie cop Trevor "Finn" Finnegan aspires to become a top-ranking officer in the Los Angeles Police Department and fix a broken department. A fast-track promotion to detective in the coveted Robbery-Homicide Division puts him closer to achieving his goal.
Four years later, calls for police accountability rule the headlines. The city is teeming with protests for racial justice. When the body of a murdered Black academy recruit is found in the Angeles National Forest, Finn is tasked to investigate.
As pressure mounts to solve the crime and avoid a PR nightmare, Finn scours the underbelly of a volatile city where power, violence, and race intersect. But it's Finn's past experience as a beat cop that may hold the key to solving the recruit's murder. The price? The end of Finn's career…or his life.
Peace, Love, & Beauty,