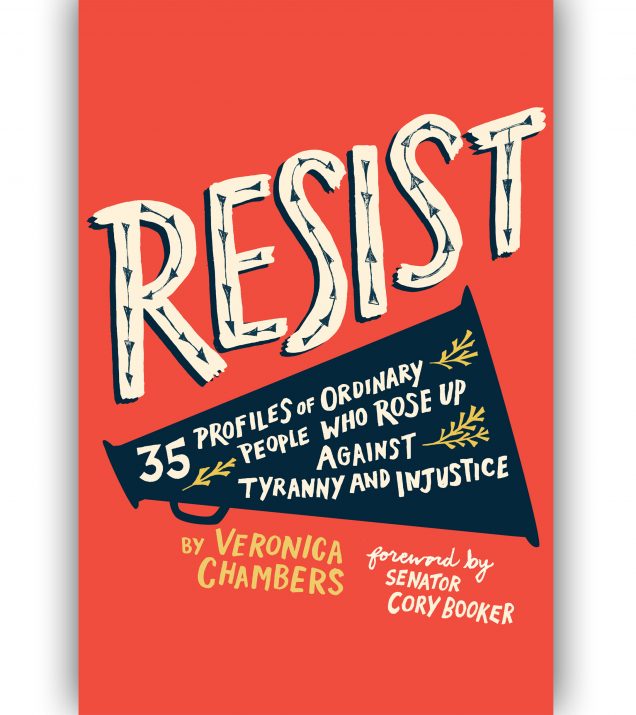 Happiest of pub days to author extraordinaire Veronica Chambers! Her children's book ☛RESIST: 35 PROFILES OF ORDINARY PEOPLE WHO ROSE UP AGAINST TYRANNY AND INJUSTICE [pub: Harper Collins] drops today. Join Chambers next Tuesday, October 2nd as she discusses her latest book at Brooklyn College. Click here for more details.
Earlier this year the celebrity memoirist along with Chef JJ Johnson and Alexander Smalls released ☛BETWEEN HARLEM AND HEAVEN: AFRO-ASIAN-AMERICAN COOKING FOR BIG NIGHTS, WEEKNIGHTS AND EVERYDAY [pub: Flatiron Books]. And later this year, oh wait, more like next week, Chamber's ☛FOR COLORED GIRLS WHO HAVE CONSIDERED POLITICS  [pub: Flatiron Books] by Donna Brazile, Yolanda Caraway, Leah Daughtry, and Minyon Moore arrives on book shelves and e-readers nationwide.
Per Harper Collins:
A perfect tool for young readers as they grow into the leaders of tomorrow, Veronica Chambers's inspiring collection of profiles—along with Senator Cory Booker's stirring foreword—will inspire readers of all ages to stand up for what's right.
You may only be one person, but you have the power to change the world.
Before they were activists, they were just like you and me. From Frederick Douglass to Malala Yousafzai, Joan of Arc to John Lewis, Susan B. Anthony to Janet Mock—these remarkable figures show us what it means to take a stand and say no to injustice, even when it would be far easier to stay quiet.
Resist profiles men and women who resisted tyranny, fought the odds, and stood up to bullies that threatened to harm their communities. Along with their portraits and most memorable quotes, their stories will inspire you to speak out and rise up—every single day.
Peace, Love, & Beauty,