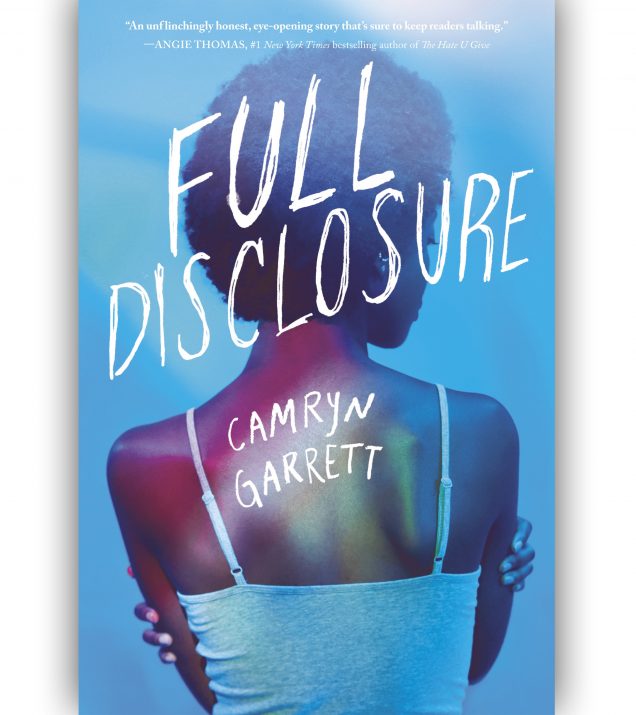 Nineteen-year-old debut novelist Camryn Garrett just released a "romantic, funny, hopeful, and unflinchingly real,"story about an "HIV-positive teen, falling in love and learning to live her truth" entitled ☛FULL DISCLOSURE [pub: Knopf Books for Young Readers]. I immediately added this gem to my must-be-read-before-the-close-of-2019 list! Below is an audio excerpt where the main character visits a gynecologist with her dad. And no. Full stop. Thankfully, this is nothing like the toxic and disgusting hymen-checking visits that rapper T.I. described recently. And yes, while the scene is properly conveyed as naturally awkward, it is also thoughtful and respectful and the rightfully-concerned kind of parenting more should aspire to. Kudos Camryn Garrett!
Sex is taboo in its own right, but when teens are thrown into the mix, everyone — as  Heath Ledger's Joker would say — loses their minds. You may recall the furor that HBO's Euphoria elicited for its portrayal of teens who openly engage in sex, drugs, and debauchery. Or the recent example of rapper T.I. telling the world, unprompted, that he accompanies his 18-year-old daughter to the gynecologist yearly in order to "check if her hymen is still intact" — an extreme case of parents being bad at recognizing it's normal for teens to wonder about sex…with a misogynistic twist that stems from the heavily-policed sexuality of black girls. Through Full Disclosure, it's clear that Garrett understands the puritanical squeamishness that America attaches to sex and seeks to broaden that conversation by inserting Simone, a black teen living with HIV who also has loads of questions about sex. It's a decision that dually addresses our tendency to suppress the sexuality of teens and the stigma around HIV positive people and their sex lives. And there's something deliciously refreshing and potentially game-changing about how Simone openly discusses sex, despite her status. And much of that is inspired by Garrett's own experiences.
—Clarkisha Kent of Entertainment Weekly
Per Penguin Random House:
Simone Garcia-Hampton is starting over at a new school, and this time things will be different. She's making real friends, making a name for herself as student director of Rent, and making a play for Miles, the guy who makes her melt every time he walks into a room. The last thing she wants is for word to get out that she's HIV-positive, because last time . . . well, last time things got ugly.
     Keeping her viral load under control is easy, but keeping her diagnosis under wraps is not so simple. As Simone and Miles start going out for real–shy kisses escalating into much more–she feels an uneasiness that goes beyond butterflies. She knows she has to tell him that she's positive, especially if sex is a possibility, but she's terrified of how he'll react! And then she finds an anonymous note in her locker: I know you have HIV. You have until Thanksgiving to stop hanging out with Miles. Or everyone else will know too.
     Simone's first instinct is to protect her secret at all costs, but as she gains a deeper understanding of the prejudice and fear in her community, she begins to wonder if the only way to rise above is to face the haters head-on. . . .
Peace, Love, & Beauty,