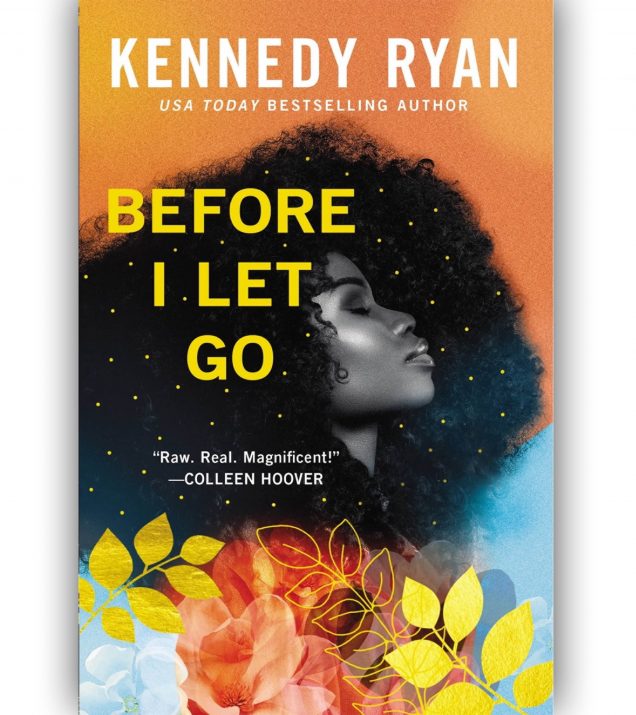 We still had our three babies—Deja, Kassim and this place Grits. When we realized those were the only things holding us together, we knew it would be better to dissolve our marriage than to go on as what we had become. Well, I knew.
— Yasmen in Chapter 1
Ok, I just finished listening to Kennedy Ryan's "emotional, raw, real and deliciously addictive" ☛BEFORE I LET GO [pub: Forever/Grand Central Publishing] and let me tell you, it reads like a made-for-TV movie dripping in equal parts reality and romance. It's no wonder that one of Entertainment Weekly's Best Romances of 2022 is already in development at Peacock. No word on the screenwriter or the cast yet, but in the hands of executive producers Malcolm Lee who gave us The Best Man, Barbershop and Girls Trip plus Debra Martin Chase who blessed us with Cinderella, Just Wright and The Equalizer, the onscreen love story is bound to be just as "sensual and life-affirming."
The divorce was so hard, but it felt like I released a breath after it was done. The house was quiet and yes, I missed Josiah immediately, desperately. But even in that new loneliness, there was a kind of relief to have only one thing to save, not my marriage, but just myself.
—Yasmen in Chapter 5
Before I Let Go has me questioning the categorization of a novel as romance.  Like, what's the criteria these days? I believe the only requirement is a happy ending and in that case, yes, Before I Let Go is a romance. But I'm leaning more towards contemporary fiction, since it's not syrupy sweet, though it is quite sexy, plus there's a responsible and gentle warning about suicide ideation and a note that therapists have not only been consulted, but have read the book. I appreciate the author and the publisher for the head's up. That said, this is not a sad tale. It is a moving love story about the highs and lows of divorce, co-parenting, marriage, loss, mourning, depression, forgiveness, reconciliation and so much more.
Like a chemist in a laboratory pouring the truth all over litmus paper, I want to see what color Yasmen turns.
—Josiah in Chapter 33
Despite nearing two years divorced, Josiah and Yasmen  never actually stopped loving each other. In fact, in the first few chapters, Yasmen often refers to her ex-husband as her husband. The mother of two immediately corrects herself though. Not only do the exes share their daughter Deja and their son Kassim, they also share a successful soul fusion restaurant called Grits. When we meet Yasmen, she is on the other side of depression, but her recollections are stirring and poignant. When we meet Josiah, he's already dating, yet his attraction to his ex-wife is undeniable and so is his resentment towards her for ending their marriage. I love that we get to witness Black folks in therapy including their son. I think it's so spot on that initially Josiah actually refuses to talk to someone and when he eventually does, he's still skeptical. It reads so authentic, so believable.
While there's some serious flirting between exes and steamy sex scenes that better make it to the small screen, I especially love the moments of genuine contrition like when Josiah says to Yasmen, "You were taking care of the two things that meant the most to me, my children…and yourself. With all you went through, that's all I had the right to expect." And when Yasmen admits to her ex-husband, "It's a miracle that you kept us afloat. I'm sorry if I didn't fully appreciate it at the time… if I ever made it harder for you." Kennedy Ryan blessed us with a modern day, yet classic Black love story that'll be around for ages in our pages and our screens.
The Original & Classic Before I Let Go For Your Listening Pleasure
Beyoncé's Rendition Of Before I Let Go For Your Aural Grooves

Before I Let Go Synopsis from Hachette:
Their love was supposed to last forever. But when life delivered blow after devastating blow, Yasmen and Josiah Wade found that love alone couldn't solve or save everything.
It couldn't save their marriage.
Yasmen wasn't prepared for how her life fell apart, but she's is finally starting to find joy again. She and Josiah have found a new rhythm, co-parenting their two kids and running a thriving business together. Yet like magnets, they're always drawn back to each other, and now they're beginning to wonder if they're truly ready to let go of everything they once had.
Soon, one stolen kiss leads to another…and then more. It's hot. It's illicit. It's all good—until old wounds reopen. Is it too late for them to find forever? Or could they even be better, the second time around?
Peace, Love, & Beauty,