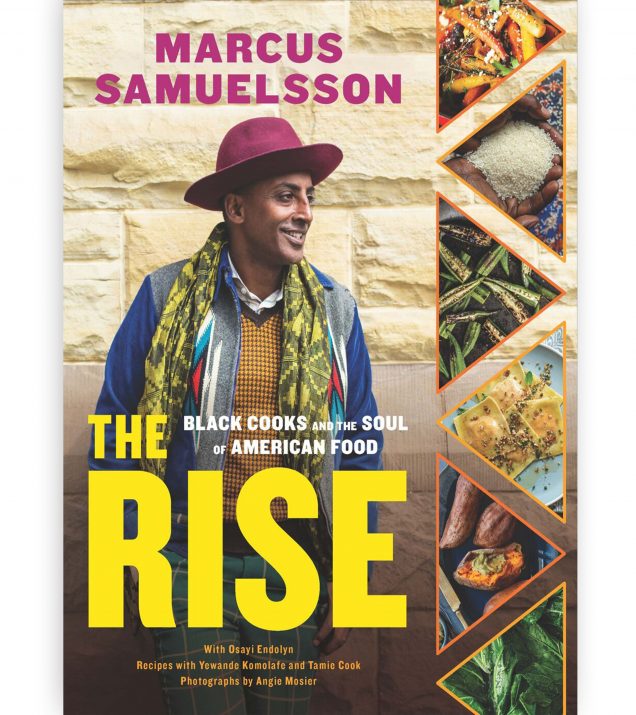 Let's raise our forks and knives to Red Rooster Harlem's owner/chef Marcus Samuelsson and  James Beard Award-winning writer Osayi Endolyn in celebration of their cookbook ☛THE RISE: BLACK COOKS AND THE SOUL OF AMERICAN FOOD [pub: Voracious] released this past Tuesday, October 26th. The Rise isn't just recipes though. It's a celebration of Black culture, Black chefs, Black historians and more.  Check out co-authors Marcus Samuelsson and Osayi Endolyn in conversation this evening with Jamila Robinson (food editor for the Philadelphia Inquirer, along with Chef Jerome Grant at 6:45 p.m. at the Smithsonian—virtually, of course. View more virtual book tour dates. #BlackFoodMatters

Take a listen to the James Bead Award-winning chef on NPR discussing his latest cookbook, plus how he converted Red Rooster Harlem into a community kitchen during the beginning of the pandemic in New York City:

The Rise: Black Cooks And The Soul Of American Food Description From Hachette Book Group:
It is long past time to recognize Black excellence in the culinary world the same way it has been celebrated in the worlds of music, sports, literature, film, and the arts. Black cooks and creators have led American culture forward with indelible contributions of artistry and ingenuity from the start, but Black authorship has been consistently erased from the story of American food.
 
Now, in The Rise, chef, author, and television star Marcus Samuelsson gathers together an unforgettable feast of food, culture, and history to highlight the diverse deliciousness of Black cooking today. Driven by a desire to fight against bias, reclaim Black culinary traditions, and energize a new generation of cooks, Marcus shares his own journey alongside 150 recipes in honor of dozens of top chefs, writers, and activists—with stories exploring their creativity and influence.
 
Black cooking has always been more than "soul food," with flavors tracing to the African continent, to the Caribbean, all over the United States, and beyond. Featuring a mix of everyday food and celebration cooking, this book also includes an introduction to the pantry of the African diaspora, alongside recipes such as:
 👨🏾‍🍳Chilled corn and tomato soup in honor of chef Mashama Bailey
👩🏾‍🍳Grilled short ribs with a piri-piri marinade and saffron tapioca pudding in homage to authors Michael Twitty and Jessica B. Harris
👨🏾‍🍳Crab curry with yams and mustard greens for Nyesha Arrington 
👩🏾‍🍳Spiced catfish with pumpkin leche de tigre to celebrate Edouardo Jordan
👨🏾‍🍳Island jollof rice with a shout-out to Eric Adjepong
👩🏾‍🍳Steak frites with plantain chips and green vinaigrette in tribute to Eric Gestel
👨🏾‍🍳Tigernut custard tart with cinnamon poached pears in praise of Toni Tipton-Martin
 
A stunning work of breadth and beauty, The Rise is more than a cookbook. It's the celebration of a movement.
Peace, Love, & Beauty,